Bohn Shim Bohn Tae Yang Ang Myong
Divine mind is the eternal light, looking towards celestial light
The Chun Bu Kyung repeatedly speaks about the concept of divinity. You can call this omnipresent force, light or spirit or source or one or the origin of life. You can also call it chunjikiun and chunjimaeum in Korean. There is divinity in the universe, and there is divinity in our mind.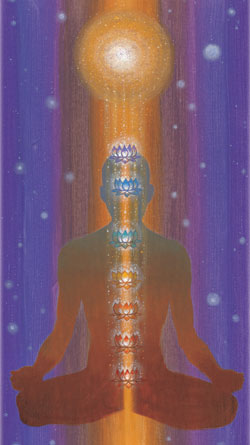 When the Source in your mind (eternal light) and the Source of the cosmos (celestial light) commune as one, a greater light is illuminated. It's the natural tendency of divinity to seek this unity— unity between ourselves and all life.
Your conscience comes from divinity. Your conscience knows everything and cannot be hidden or ignored for long. Beside letting you know when you have done wrong, your conscience can help you regain your center when you've lost your balance. It tells you when you've wandered away from your true nature, which is divine, and how to get back.
Divinity is also a great love— a love from the heat of your emotions, but a love that sheds light on the divine all around you. When you look within and listen to the sound of your beating heart, and feel grateful to be alive, you can sense true love, your divinity. When you act with great love full of compassion for all things in Heaven and on Earth, small love gets out of the way on its own. Then you become someone you can admire because you are acting as an expression of the divine. Self love stems from divine love. When you express true unconditional love, you not only have the eternal light of divinity inside; it radiates from you to light up the world.
In what way have you shared divine love? Leave a comment here or on my Facebook page.