As the holiday season approaches, one source of stress is strained and/or difficult family relationships. You've heard the horror stories, laughed about crazy Uncle Joe, and seen all of the dramas and comedies about going home for the holidays. You may have even experienced those dramas yourself. Sometimes families have difficulty communicating with each other or accepting each other as they are. They may hurt each other in ways ranging from just being inconsiderate, to outright neglect, and even physical and mental abuse. While no family is perfect, some manage to provide the love and support we all need to live a happy, successful life, while others tear each other down.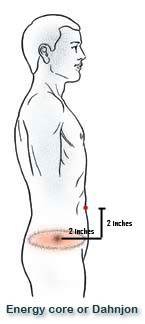 Regardless of how wonderful your family is, your relationships can improve by making "Water Up, Fire Down" energy circulation in your body. What I call Water Up, Fire Down is the natural energy state of our bodies when we are healthy in body, mind, and spirit. It gives you the cool head, open heart, and strong core that are essential to any healthy relationship. With Water Up, Fire Down, you can be centered in yourself with your own source of power and energy, while relating to others openly, honestly, and compassionately. You are also naturally happier, less stressed, and more forgiving of others.
How can it do all that? Well, our energy state affects our thoughts and emotions, which then create our experiences, which then affect our energy state and physical health. It's a cycle of influence that generates our life. The easiest way to influence that cycle is by changing your energy state with exercise and choosing positive thoughts.
One easy exercise you can do to create Water Up, Fire Down is Body Tapping. In Body Tapping, you are using your fists, palms, or cupped hands to rhythmically tap your body, as if you were giving yourself a massage. The vibrations you make as you tap remove any blockages to the energy flow in your body.
The most important place to tap to create Water Up, Fire Down is your lower abdomen. You have an energy center, or dahnjon in Korean, located two inches below your navel and two inches inside your abdomen that acts as the energy powerhouse of your body.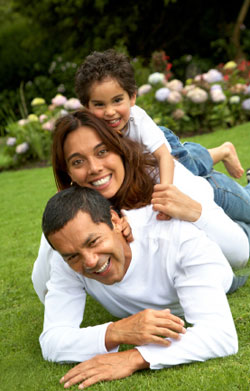 It's what is generally called your core. By tapping two inches below your navel with the pinky-side of your fists and focusing on the sensations created, you will remove any blockages in your core and gather energy there. Any fire energy in your head will go to your abdomen, and heavy-feeling thoughts and emotions will leave. As you gather energy, Water Up Fire Down circulation will be created.
At first, I would tap your core about 100 times a day. But as you get used to it, you can work your way up to 1000 or more. It's an exercise that your whole family can do regardless of their health or physical ability. You can even make it more fun and do it to music. As you tap, keep your arms and shoulders loose. You can do Body Tapping either standing or sitting. If you are standing, you'll get the best results if you stand with your feet shoulder-width apart and parallel to each other and your knees bent slightly. If your abdomen is sore, rub it and then tap lightly at first until your soreness eases.
Even if everyone in your family doesn't create Water Up, Fire Down, your energy state will affect theirs, and your perspective will change and affect your interactions with them. It may be hard to believe that all of these effects could come from tapping your body, but it's easy enough to try it and see for yourself. What did you feel like after you did Body Tapping?