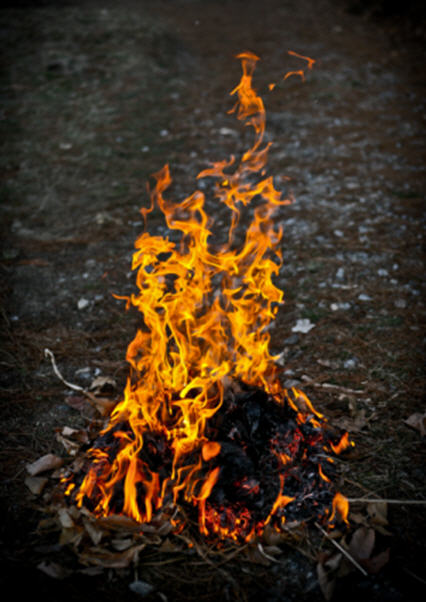 With summer coming up, the trees are becoming green again. I was admiring their leaves when I noticed some old leaves on the ground that hadn't been cleared away last year. So, in the evening, I gathered the leaves into a pile and burned them.
There were still some embers left when I poured water over the ashes, and steam billowed up as water and fire met with a crackle and a hiss. I enjoyed the sound and dancing movement created by that water and fire for a while, reminiscing about the source of life.
Water and fire come together, and life is born and creation achieved. When water meets fire and the right temperature is reached, the elements undergo chemical reactions and physical processes. I think it's one possibility that a life form is born when a certain spiritual factor is blended into that process.
All the physical and chemical changes that occur in a life form happen along with changes in temperature. Temperature exerts a very important influence on vital phenomena, and all life forms respond sensitively to temperature. Even the human species walks on a fine line between life and death with a difference of a few degrees of body temperature. Just think about how much time and money we pour into maintaining an indoor temperature we find pleasant, or how much effort we put into preserving the right body temperature when we're out in the elements.
It seems that in modern times, as people spend less time in direct contact with nature and pay less attention to their connection with the earth, many of them have a diet or lifestyle that makes their bodies literally and energetically "colder." This is called "coldness" in eastern medicine—when part of the body feels cold or actually is cold—and is regarded as the source of just about every ailment. This derives from the perception that, as the body becomes colder, the blood vessels constrict, discouraging effective blood circulation and allowing the accumulation of various toxins, which results in illness and accelerates aging.
Stress can also contribute to poor blood circulation and cause temporary drops in body heat. During times of stress, it's important to practice breathing deeply and making your head cool and your lower belly warm. You need to apply the energy principle of "Water Up, Fire Down" (Su-seung Hwa-gang in Korean) to balance the fire energy and water energy in your body.
A good way to increase your body temperature involves exercising to work the muscles, which generate the most heat. If you develop your muscles through consistent exercise, the capillaries repeatedly expand and contract and increase the production of heat in the body; because of this, it really helps maintain a warm body at all times. Exercises such as push-ups, sit-ups, and squats are very effective ways to work the muscles easily in a short period of time and raise the temperature of your body.
One more thing: if the temperature of your mind goes down, it's easy to lose the strength and motivation you need to maintain the right temperature for your body. That's why it's also important to keep a fire in your heart by constantly instilling hope and passion in yourself.