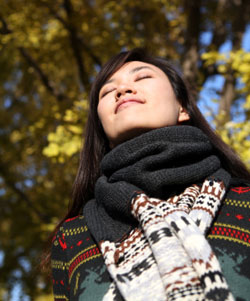 There are three reasons for breathing.
Breathing supplies oxygen to the body.
Breathing relieves stress and
improves your emotional condition.
Breathing regulates your brain waves,
enhancing your concentration and creative power.
Breathing is the one involuntary function of the body
that we can also control consciously.
It provides a link into the depths of our minds,
a path by which we can encounter
the divinity that exists within.
For what purpose do you breathe?
Breathing guides you to deep meditation.
Inside of meditation, you can encounter a great soul.
The great soul that exists inside of you.
That's who you really are.