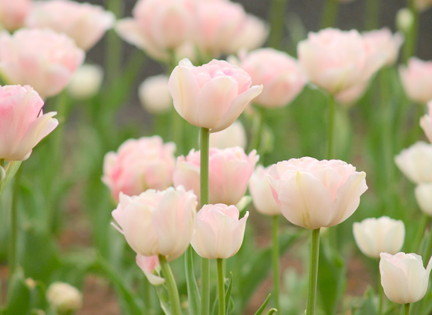 My poem, "To the flowers," comes from a desperate desire for awakening, through flowers, to the mind of the Creator who created this earth and humans.
As you look at the flowers with Chunjikiun and Chunjimaum, known also as cosmic energy and cosmic mind, I hope you enjoy this poem.
To the Flowers
Ask the flowers
Ask the flowers
Why they became flowers,
spending dark, cold nights
with rain falling on them, how they sprouted from their seeds
and became buds, and how their buds burst
so that they would become flowers, and why they became flowers
Ask the flowers
Ask the flowers
What they became flowers for
For such a long time
You don't know how they've looked forward
to your asking them these questions.
The flowers know
that it is only people
who can ask these questions.
That these flowers are the mind of heaven and earth
That these flowers are nature's love
That these flowers are a message of love sent by the Creator…
Thus, they undergo difficult trials and tribulations
for a small sprout to become a bud
and a bud to burst into a bloom;
they use all their strength
and then return to nature.
What should we learn from this aspect of the flowers?
Coming from nature
and returning from nature
is the same in both people and flowers.
We must all know that,
just as the mind of the creator is instilled in the flowers,
human beings, who have received the creator's love,
are the ultimate spiritual beings born into nature.
It is human beings and it is people
who gave names to the innumerable flowers.
However, humans are not aware of
the flowers' destiny or their message.
Flowers are not just beautiful.
Within the flowers are much patience, effort,
and diligence.
They invest tireless effort to achieve completion as a flower
before returning to nature.
Without causing any harm to nature,
flowers deliver messages of nature's intention and love,
and without complaint or dissatisfaction, they return to nature.
This is the true nature of flowers and their mind.
Even with a long itinerary that involves receiving nature's energy, sprouting,
becoming a bud, and then becoming a flower,
flowers cannot move their location freely even by one centimeter,
nor can they travel.
Wherever they may find themselves,
they plant their roots and give their best effort.
Flowers that bloom on a cliff
Flowers that bloom in the desert
Flowers that bloom underwater
There are flowers that bloom in a dirty sewer,
or on a pile of trash;
there are flowers that may sprout but are unable to produce a bud
before becoming food for animals.
Nevertheless, flowers do not complain,
and even if they were to die tomorrow, they blossom fully.
In place of God and in place of the Creator,
humans give names to the flowers
and they give names to the animals.
Whether or not these things know their names,
it's time for people who care for the Creator's garden
and take responsibility for the earth
to think about how they have
managed and cared for the earth
as they manage the earth.
There isn't much time left now.
You have to know why earthquakes and tsunamis are taking place on this Earth
and abnormal climate changes with raging storms, wind, rain, and thunder are appearing,
why countless people are living in the midst of pain, sadness, poverty, and sickness
as they're driven towards the brink of death.
People who manage the earth and take responsibility for it must know
that countless people born on the earth
as the Creator's children and through heaven's love
are crying out that they are not happy.
Through the sounds of nature, through the messages of the flowers,
people must now realize
what they are doing.
People need to know what they have done
to the earth and the lives living on the earth right now
while they've been caught up in a drug called success.
Everyone will go back to nature when their time comes,
so it's time to think about what kind of face you'll have
when you're face to face with nature,
and reflect upon yourself.
By examining the work that you've done
and performing honest evaluation and checking,
a new future can be created for humanity.
It's time to learn love from the flowers
and learn singing from the flowers
and learn the mind of the Creator through the flowers.
A time of great change is coming now.
Unless we change during this time of great change,
the future of humanity and the future of the earth are dark.
Will we enter a deep abyss of darkness?
Will we welcome a new morning?
It's our choice now.
Won't you give love and hope to the flowers?