One morning recently, I woke up to the voice of my soul coming from the earth and walked around my house. And a beautiful song of enlightenment burst forth from my brilliantly shining divinity. I would like to share it with you.
For the prodigies of integrity and character of this age.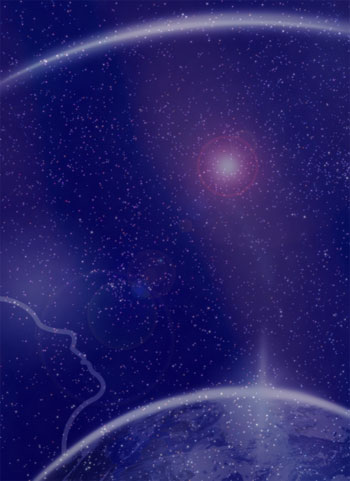 I take a journey inside my brain in search of my soul,
flashing like a spark, sparkling like a star.
Within my hundred billion brain cells,
where is my soul?
Like the stars twinkling in the night sky,
the shining of my soul
in my hundred billion brain cells
guides me to an eternal world.
There, always shining and twinkling
like the North Star,
the star of my soul awaits me.
My humanity and my divinity
are the fabled Gyunwoo and Jingnyeo.
My soul is asleep in the hundred billion brain cells,
and I am walking on the earth right now.
The earth is a training room
for completion of the soul,
and I am here because the 21st century earth wanted me desperately.
I love the earth,
and it is my destiny and my mission
to look after all the life upon it.
My humanity awakens through the stars
twinkling in the night sky.
I hope that all people, that all children,
become prodigies of character and integrity
who light up the world like the starlight
that illuminates the night sky.
O dream of Hongik Ingan Ehwa Segye*,
the founding philosophy and spirit of the Republic of Korea,
be resurrected as the new birth
of the Earth Citizen and Earth Management.
Through BOS** and through Brain Education,
may the humanity of all people become bright like the starlight in the night sky.
I hope for all the people around me to be ever happy.
* Human beings who serve the good of all in order to create a harmonious world
** Brain Operating System