Education of both children and adults has been my ongoing interest. When I look at the state of school education, especially in my native South Korea, I am concerned. I see a focus on rote memorization of facts and figures and a lack of attention to collaborative problem solving. And once students reach high school (around age 15), they have to focus intensely on passing multiple-choice tests, especially the ultimate final examination, in order to be eligible to attend a university. They go through what is widely-termed "examination hell", sacrificing much of their family and social lives, in order to study for that exam.
Like many others, I believe education should be more than rote memorization. More is needed in order for a society to have happy, healthy, and productive adults. An acquaintance of mine recently introduced me to a school in Kanghwa Province, South Korea that is experimenting with a better way. Looking for hope for our education system, I decided to visit this alternative school. On the afternoon of Korean Independence Day, while the students had a day off, a group of  us headed there by car. We drove for a little over an hour from Seoul until we spotted a school surrounded by greenery, looking like a small village nestled at the foot of a mountain.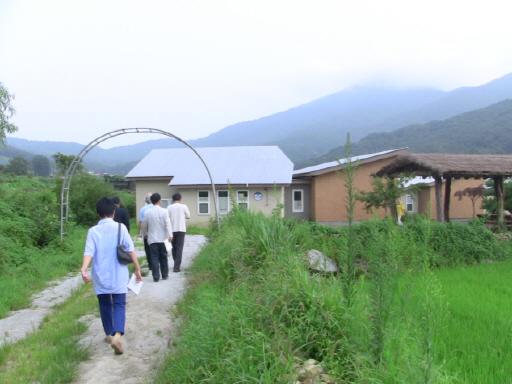 A sign that read "Mountain Valley School" greeted us on our approach. Principal Youngso Yoon and Superintendent Kyuho Jo gave us a warm welcome, complete with bright smiles. This alternative high school has special recognition by the South Korean Department of Education, similar to a "charter school" and is quite competitive to enter. Each class has only 20 students, while most South Korean high schools have 40-50 students in a class room. Around 120 hopefuls compete for these 20 spots every year.
The principal gave us a tour of the school, with one of the first stops being the dining area. Since it was the largest space at the school, it also served as a lecture hall and a meeting room. One of the schools outstanding features is its integration with the natural environment. For example, the meals are planned in an environmentally-friendly way, with food that is grown in-season. Instead of the Korean staple of plain white rice, they are served a healthier mix of rice with over 12 kinds of grains. Even though the food is considered healthy, the students there eat every bite. Even those who, at first, may have picked out the large, black beans, eat everything after three months. And as far as we could tell, there was no place for the students to deposit leftover food when they returned their trays.
Just around the corner from the dining hall, we saw a large solar panels. Interestingly, they put the panels to additional use as a roof for a small, open-air ampitheater, used for lectures. It's an incredible idea. I tried sitting there for myself, and as soon as I did,  we decided it was the perfect time for the principal's Q&A session. Although it was the middle of the day in midsummer, it was cool beneath the solar panels.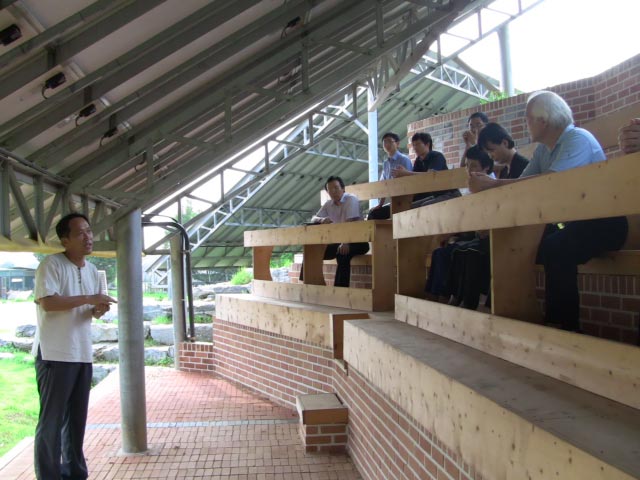 Behind the main buildings, there was a vegetable garden that the students cultivate. Various vegetables such as peppers, corn, yellow melon, and eggplant grow there. The students work in groups on a portion of the garden, about 8 square yards, which they tend once or twice a week. I noticed the students' rubber boots and shovels lined up, waiting for them to return from vacation. When I tried a bite of the yellow melon that the superintendent picked for us, it was really fresh and sweet.
The garden included a rice paddy, where the rice shoots had just started blooming. Fruit-like, pink things were stuck along the stems of the rice plants, which our guides said were river snail eggs. Beneath the surface of the water, the coin-sized river snails eat any weeds that pop up before they grow very large. Like the school, these snails have a symbiotic relationship with their immediate habitat. Nearby, chickens were clucking and strolling casually around a coop, and there were old-fashioned composting outhouses that used sawdust. They didn't smell, even from nearby. I noticed two frogs with a beautiful green color resting, unconcerned, even when people approached them and leisurely sat nearby.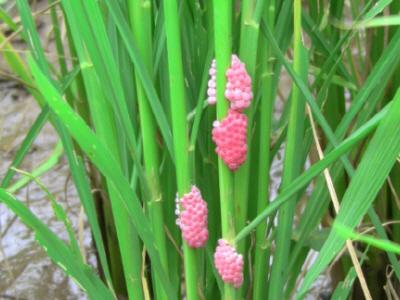 The pride of this school is its eco-friendly architecture. The wife of the chairman of the board of trustees is an architect, so they built facilities that conform to an environmentally sound and harmonious philosophy. All classrooms used geothermal energy from deep in the ground to cool the rooms in the summer and warm them in the winter. Even without air conditioning, a classroom cottage with a pine roof felt comfortable inside.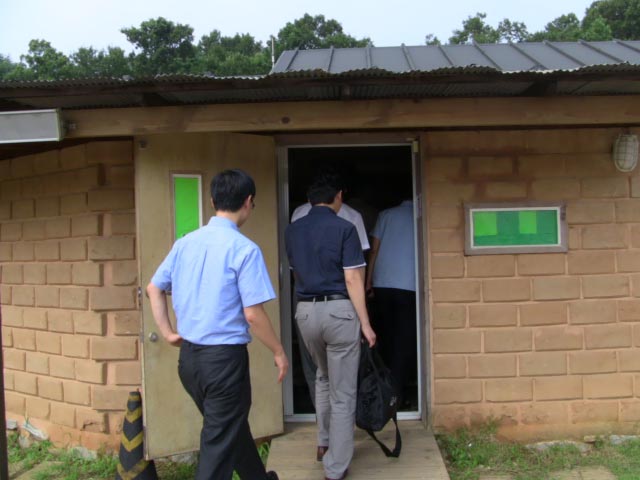 The building design also fosters character-building among the students as part of the holistic approach of the the school. For example, when I went into the classroom for first-year students, the doorway was so low that a tall student would have to duck his head to enter, and the ceiling of the classroom was also low. Our guides said it was built low so that students who are full of unrestrained energy could learn to calm themselves in modesty and humility.
The students live in dormitories about 100 yards away from the classrooms. There are several buildings, and they say students can choose their housing. When we first walked into one of the dorms made of natural materials, we saw a common room, and found that each bedroom has a loft so it can accommodate up to four people comfortably without the use of bunk beds.
On the other hand, the hallway  is so narrow that two people cannot move pass through at the same time, so one person always has to give way to another. They also have to take turns to using the showers, which are individual rather than group showers. The administrators said that the dorms were intentionally designed to be slightly uncomfortable to cultivate a considerate and respectful character. At this school, the students learn how to live with each other in harmony.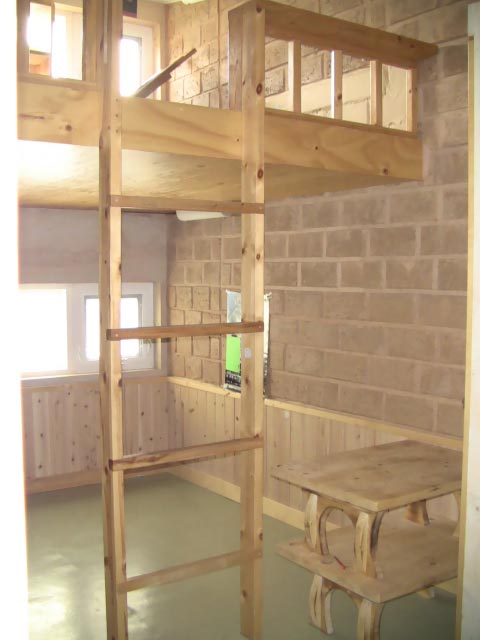 Scattered throughout the grounds, we saw large, covered outdoor meeting places where up to 30 people could sit comfortably. These common areas were yet another unique characteristic of this school that demonstrates their desire to foster community and personal growth.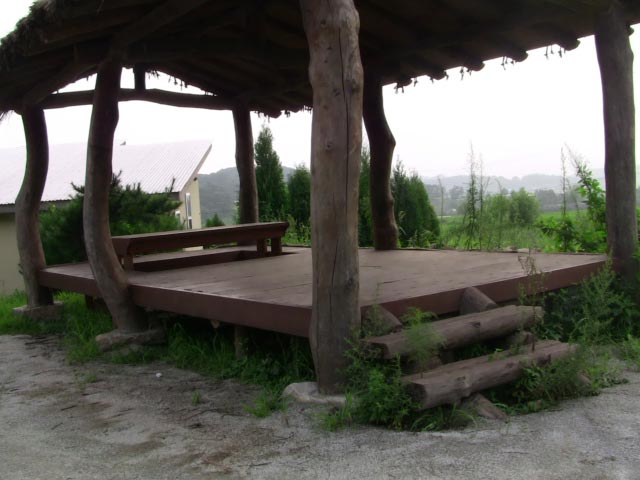 I was quite impressed with Mountain Valley School's principal. He seemed like a sincere educator who understood the students' dreams and unique characteristics, and who studied and worked tirelessly. He was open and kind; he also spoke frankly about the challenges facing school operations and his concerns as an educator.
This upstanding educator matched the ideology of the school–one of strong character, and peaceful cooperation and collaboration with nature and human beings. While 70% of its curriculum is the same as regular high schools (Korean, English, Math, Science), the other 30% of the classes are unique to Mountain Valley. They include classes such as creative arts, ecological farming, community theory and practice, philosophy, and regional and global studies. Since there are 20 teachers, there's 1 teacher for every 3 students, so they can give them the time and attention they need to do well.
I could see that the school was making an effort  to restore balance for their students while thriving in a national educational system that is centered on college entrance exams. Every year, out of the 20 graduating students, most go to college. Every so often there is a case where a student leaves the school to pursue special education befitting their personal life path, and there are cases where they join the army to volunteer for the special forces as soon as they graduate.
As we ended the tour, I wished the principal well and thanked him for kindly giving us a tour of the school. I told him, "In the traditional spirit of Korea, this school utilizes all of the energy of nature. It is infused into the education and environment here."
I promised to donate some of my books to the school that would be helpful to the students. The people who had come with me all said that they wished they could go back to their high school years and attend a school like this.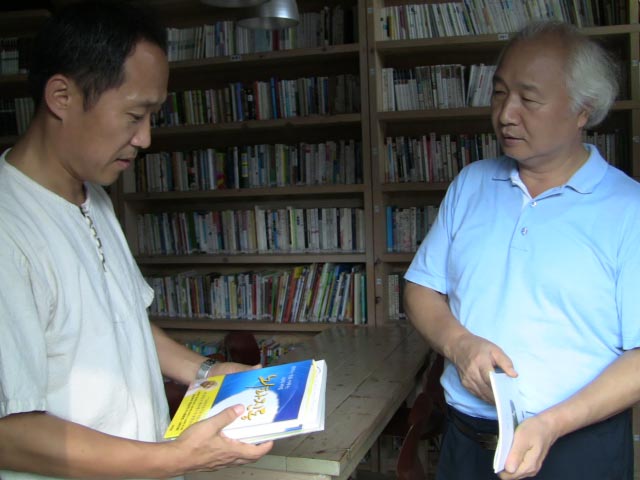 I hope that many alternative schools like this one are established so they can allow education to breathe and create hope. My wish is that a competition to create schools where the students and teachers are all happy can take the place of the competition to pass the entrance exams for college.