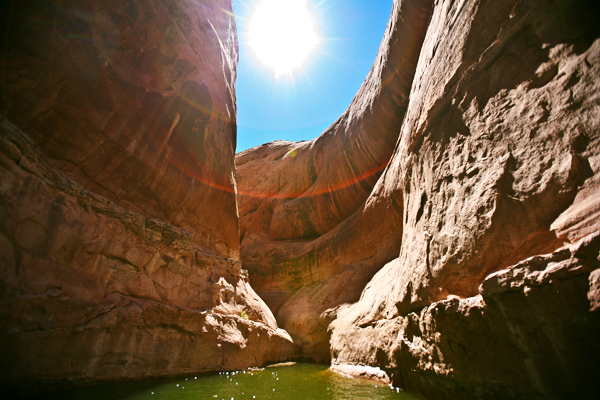 I went to Lake Powell recently, my favorite place for meditation, for the first time in a long time. At Lake Powell, the mystery of the earth lives and breathes, and its primeval beauty is preserved unchanged.
There, I could exist as nature itself, as an Earth Human. The earth's message came into my soul as if in a dream. This is the message I heard.
Dreaming at Lake Powell
Beneath a blue sky, a lake of emerald,
red rocks like painted screens
with various beautiful, majestic faces
surround me.
Here I stand in Pace Canyon,
a place of indescribable
mystery and divine sacredness.
I lie in the lake.
The lake is me, and it is a very big bed.
In the beautiful sky,
and in each mysterious, majestic screen of rock,
I see extraordinary forms and images like sculpture.
How long has it been
since I last forgot myself and merged with nature like this?
The moment I became Nothingness,
I spread my wings and took flight through the sky,
liberated from the various
memories and emotions tied to this world.
When I met a cloud, I became a cloud,
when I met the wind, I became the wind,
when I met a mountain, I became a mountain,
when I met a rock, I became a rock,
when I met a flower, I became a flower,
and when I met a butterfly, I became a butterfly.
I soar up into heaven and become ten thousand things.
This moment, how long has it been
since I last returned to the origin of all life?
Leaving the human body
and returning to nature in its purest form
I reach a state of freedom,
not bound to any place in this world.
Here, there are no gods, nations, success,
differentiation between you and me,
or the discernment of good and evil
spoken of in the human world.
There is solely the seat of the Tao,
the one place to which everything ultimately returns.
I feel my physical body.
My heart is beating.
A physical body without a soul is incomparably lonely.
Should I remain here,
or should I go back to my body?
The choice, of course, is mine.
The reason I came to the earth
is because the 21st century earth
wanted me desperately.
For the earth who is all alone
and human beings who have lost their direction,
shouldn't I give everything of myself if it is needed?
Let us bring about a world of spiritual completion,
and herald an era of spiritual civilization,
to form a world where all people are happy.
With the true spirit of Bokji Daedo (the Great Way of Welfare),
let us create a path of complete welfare.
Herein lies the reason why I was born on this earth.
If this is my destiny,
I must go to the end of the path, no matter how harsh and difficult it may be.
Of all the life in this world, human beings are the most precious.
Now I must return to my physical body that awaits me,
and fulfill my destiny and my mission.
And if it means that I can save humanity and this earth,
I choose the path of hardship once again.