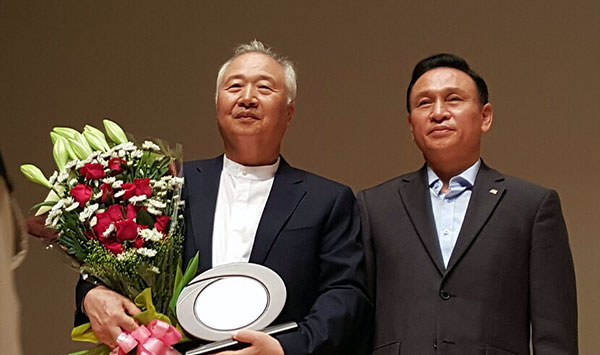 Ilchi Lee's hometown, the city of Cheonan in South Korea, gave him a plaque of appreciation on Monday, August 3, 2015. The Mayor presented the plaque to him in front of 800 city hall employees.
Cheonan is the location Ilchi Lee chose to build the Institute of Korean Cultural Studies and the University of Brain Education. It is also the headquarters of his Global Cyber University and Benjamin School for Character Education.
Cheonan is a mid-sized city south of Seoul in the middle and western part of South Korea. Founded in 1895, it serves as a transportation hub, a crossroads to the southern part of the country. It's also been designated as the high tech headquarters of Korea. Matching Ilchi Lee's vision and philosophy, the city he grew up in calls itself the "city of abundant hope."
Ilchi Lee was said to be very pleased and grateful to receive the award.