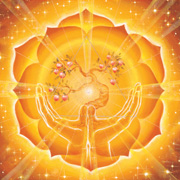 Close your eyes. Put your hands on your chest. Focus on your heart.
Ask yourself, "Who am I" "Why do I live?" "Why am I here?"
Keep asking yourself, until you get an answer from within. Through your answer you will know your true nature.
By realizing your true nature, you will gain genuine happiness and joy. True happiness comes naturally when you feel and realize the true you. For our true nature is like the sun that blazes brilliantly despite its dark spots. It is infinitely precious and valuable.
And that is enlightenment: making a choice to discover what existed originally, to uncover your true self and act for your true purpose.