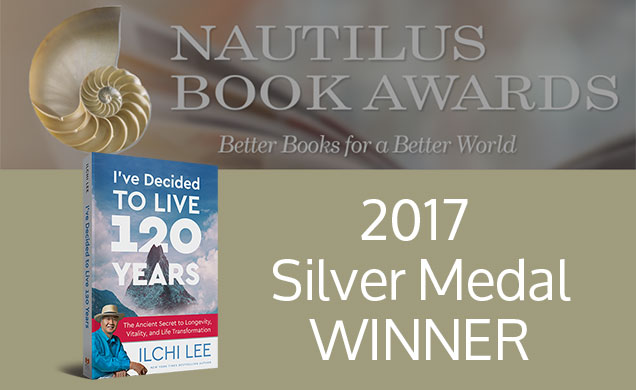 Ilchi Lee's most recent book, I've Decided to Live 120 Years: The Ancient Secret to Longevity, Vitality, and Life Transformation (Best Life Media, December 2017) picked up a Silver Medal in the Personal Growth category for small press books in the 2017 Nautilus Book Awards.
The Nautilus Book Awards has been celebrating "Better Books for a Better World" since 1997. It rewards books on the "growing-edge" of culture that advance the Nautilus Core Values of "health & high-level wellness, conscious living and sustainability, spiritual growth, and positive social change."
Past Nautilus Award winners include Deepak Chopra, Thich Nhat Hanh, Marianne Williamson, Caroline Myss, Gregg Braden, Eckhart Tolle, Joan Borysenko, Andrew Weil, and many more.
I've Decided to Live 120 Years offers a revolutionary look at the later years of our lives. It says that with intention and lifestyle change, each person can live a passionate, fulfilling, healthy, and long life. Lee includes both practical advice and inspiration for making the lifestyle changes necessary for lasting health and happiness. He writes about connecting to nature to destress and to recognize and amplify your body's natural ability to recuperate and recharge. He also recommends exercising for at least one minute every hour to maintain vitality and discharge excess emotions and thoughts.
The 304-page full-color paperback has been endorsed by bestselling authors such as don Miguel Ruiz, Dr. Christiane Northrup, Neale Donald Walsch, Michael Bernard Beckwith, Barbara Marx Hubbard, and Dr. Emeran Mayer.
More information on I've Decided to Live 120 Years can be found on its official website, Live120YearsBook.com.