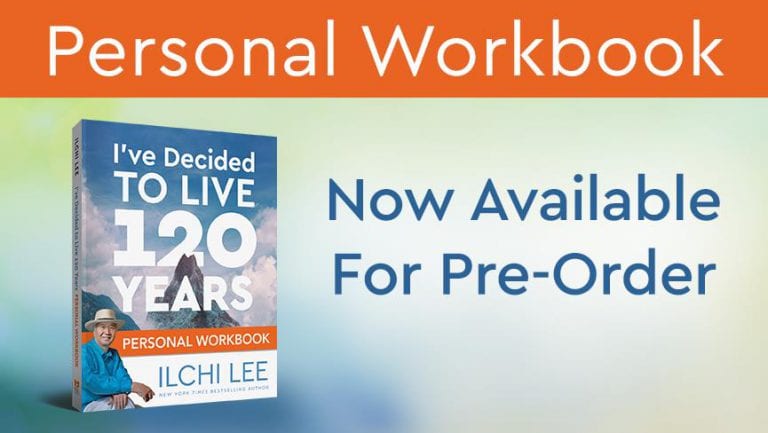 "I got the feeling that many readers seriously want to reflect calmly on how they've lived so far and to plan their futures based on their life lessons," writes Ilchi Lee in the Introduction to his new book, I've Decided to Live 120 Years Personal Workbook (Best Life Media, June 2018).
"I was concerned, though, that—contrary to those desires—they might put off this work, having trouble finding the time in their busy daily lives and not knowing where or how to start." This concern led him to write the companion workbook to his acclaimed book, I've Decided to Live 120 Years: The Ancient Secret to Longevity, Vitality, and Life Transformation.
In the workbook, Ilchi Lee guides readers through reflections, meditations, and planning exercises based on the themes in each chapter of the original book. As you go through it at your own pace, "you will have a new look on life," says Peggy Chang Carr, an advance reader. "You will evaluate your life value, thinking pattern, and your life habits. If you have decided to live to 120 years old, you will start thinking about the changes you need to make and how to make them!"
Another advance reader, Jennifer Pilapil, says, "I've Decided to Live 120 Years Personal Workbook is truly a beautiful journey of self-reflection. Just from the first chapter, I was able to not only reveal my unique, personal core values, but how to effectively use my personal values in my everyday life."
Ilchi Lee has often talked about the difference between knowledge and wisdom. Knowledge is simply information we understand intellectually, while wisdom comes from experience and practice with that information. This personal workbook allows you to turn the knowledge supplied by I've Decided to Live 120 Years into wisdom that enriches your life.
If you'd like to pre-order the book, which will ship in early June, you can get it for 15% off from publisher Best Life Media or ChangeYourEnergy.com until May 31, 2018. You can also buy it at its regular price of $19.95 from your favorite online bookseller.