Three of Ilchi Lee's books won Silver Medals in the 2010 Nautilus Book Awards last month, and one of these also won a 2010 Arizona Glyph Award.
The winning Nautilus Book Awards titles were:
In Full Bloom (BEST Life Media 2008) – Aging Gracefully/Retirement category
Healing Chakras (BEST Life Media, Second Edition 2009) – Health/Healing/Energy Medicine category
Brain Wave Vibration (BEST Life Media, Second Edition 2009) – Personal Growth/Psychology category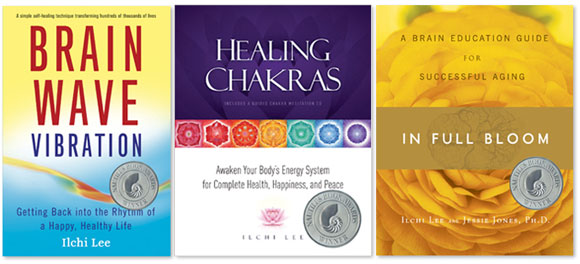 Now in their 10th year, the Nautilus Awards recognize books and audio books that promote spiritual growth, conscious living, and positive social change, while at the same time stimulating the "imagination" and offering the reader "new possibilities" for a better life and better world.
The Nautilus Book Awards have a unique three-tier system of judging that offers a deliberate course of examination and scrutiny designed to sort and separate books as they are measured against a carefully prepared list of notable characteristics. This process is carried out by three teams of highly qualified, experienced reviewers located across the U.S. whose successful careers as editors, writers, librarians, schoolteachers and bookstore owners are matched with a passion for books that offer new ideas and options for a better world for everyone. Each book is evaluated by at least two judges at each level in 28 subject categories. To see all of the 2010 Award Winners, you can visit www.nautilusbookawards.com.
Healing Chakras also won the 2010 Arizona Glyph Award for Best Interior Layout/Design at a gala banquet at the Phoenix Country Club on May 1, 2010. The Arizona Book Publishing Association, who gave the award, also named it as a finalist in two other award categories:  Psychology/Self-Help and Health/Wellness/Nutrition.
The Arizona Book Awards help to promote and support quality work created by Arizona authors, produced by Arizona publishers, or written about Arizona, and to recognize excellence in craft and creation in the Arizona book industry. Now in their eighth year, the Awards judge books in 33 subject categories and three design categories. One Embodying Arizona Award is given for the best book that meets all three of the above categories. To view all awards winners, visit http://azbookpub.com.
All of Ilchi Lee's books can be found at www.bestlifemedia.com or in your local bookstore, Dahn Yoga Center, or Body + Brain Center.