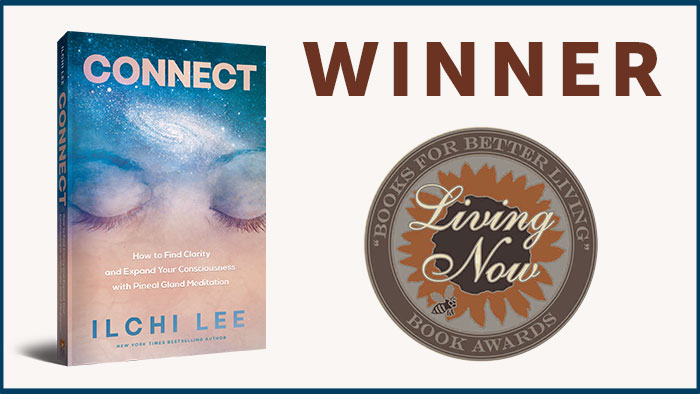 Connect: How to Find Clarity and Expand Your Consciousness with Pineal Gland Meditation, Ilchi Lee's latest book (July 2019, Best Life Media), received a silver medal in the Meditation/Relaxation category of the 2019 Living Now Book Awards. These awards "celebrate the innovation and creativity of newly published books that enhance the quality of our lives," according to the awards description.
Since 2008, the Living Now Book Awards have highlighted books on health, home and family, and personal development—topics thought to be the fastest-growing segments in book publishing. Connect addresses the development of one's intuition and problem-solving abilities.
Ilchi Lee writes in Connect, "Once you understand that disconnection is the underlying cause of your problems, then the solution also becomes clearer. All you have to do is mend your broken connections. Recover your connection with your body, your connection with your true self, and your connection with people and the world. How can we recover that connection? I believe that the master key that makes it possible is in the human brain, and I present Pineal Gland Meditation as an essential technique for awakening the brain."
Connect contains detailed and illustrated descriptions of how to do Pineal Gland Meditation and related body-mind-spirit exercises. It guides readers to greater self-love and self-efficacy through finding meaning within themselves.
Pineal Gland Meditation does this by clearing out misinformation to allow clarity and new, empowering information to take root in the brain.
As Emma, one practitioner said: "Pineal Gland Meditation caused memories buried deep in my unconscious mind to rise to the surface, one by one—not only happy ones, but painful memories and shameful experiences I didn't want to think about, and memories I didn't even know I had. But surprisingly, those memories showed me clear reasons and solutions for the physical, mental, and emotional problems I was experiencing. I feel a real peace inside now, one that fills my heart."
To explore Connect, find it at any major bookseller in paperback, audiobook, and Kindle ebook formats.