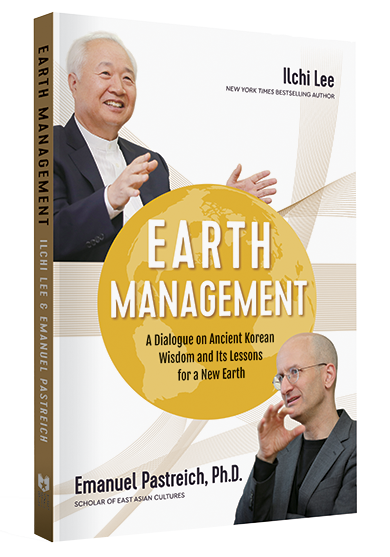 Ilchi Lee will add another book to the list of one's he's authored with Earth Management: A Dialogue on Ancient Korean Wisdom and Its Lessons for a New Earth. What's different about this book, which will be released officially by publisher Best Life Media on September 20, 2016, is that it contains a dialogue between Lee and Dr. Emanuel Pastreich, an associate professor at the College of International Studies at Kyung Hee University who has trained at Harvard University and Yale University.
Dr. Pastreich's specialty is classic Asian culture, and through his studies, he has noted the traditional Korean concept of Hongik. Meaning to benefit others, the whole, as well as yourself, Hongik is proposed by the two authors as an answer to the world's problems of war, economic disparity, imbalanced food distribution, and global warming—problems that cause both authors concern.
By delving into the original philosophical traditions of Korea, Ilchi Lee and Emanuel Pastreich seek to give readers hope that the world's problems are not insurmountable. To overcome them, they say, however, each person's consciousness and choices are very important. Changing the tragic trajectory humanity is currently on can only come from the work of individuals, not from nations and institutions. Culture, values, and lifestyles much change first before Earth's issues can be managed.
People ready for change, who like books like Eckhart Tolle's A New Earth, or who just want to learn something new and unique will be able to get the book next month in either paperback or ebook format from major booksellers online and offline.