Did you choose a dream for 2011? If you want it to become a reality, you need a strategy; you need PDCA: Plan-Do-Check-Act. That's my favorite goal-achievement tool. I use it all the time and have lectured on it extensively. First developed by Walter A. Shewhart in the late 1920s, it was popularized by Dr. W. Edwards Deming. I think it's so useful that I'm going to write a series of blog posts in January about how to use it and what it can do for your life.
So what is Plan-Do-Check-Act?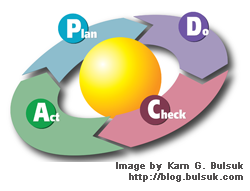 PLAN is defining a goal clearly and understanding the core of the goal.
DO is developing a strategy to achieve the goal and take action.
CHECK is analyzing the status and evaluating the results.
ACT is focusing on the goal with a strategy for improvement.
PDCA is a cycle. It's a continuous process of improvement and refinement of your actions as you move toward your dream. PDCA enables you to see what's keeping you from creating what you want, as well as what works.