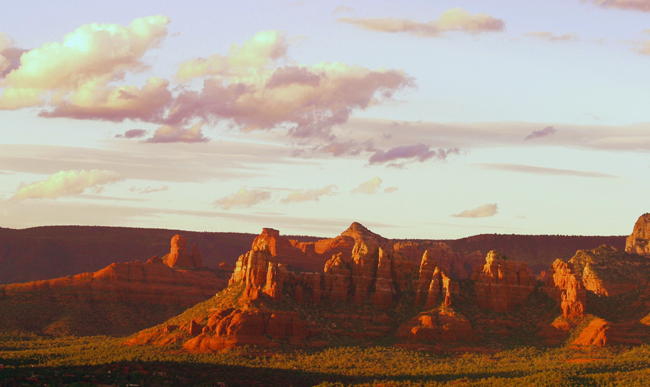 Living in Sedona for the past sixteen years, I've often noticed how a lot of times when people come to Sedona, all they do is look at it, say it's beautiful, take some pictures, and then go home.
But when I came to Sedona, I felt that it isn't a place that you can become familiar with simply by seeing it with your eyes. It's a place that you have to feel with your whole body. Experiencing Sedona only through your eyes is like going to a restaurant; having a beautiful feast set in front of you; exclaiming, "This smells great; it looks really delicious!" and then leaving. But to really understand Sedona you need to immerse yourself in it with all of your five senses, to breathe it, and to feel it with your whole body.
Once you do that and achieve a certain resonance with Sedona, you can receive messages from it. I've received many messages from Bell Rock and other parts of Sedona and acted on them. Actually the messages Sedona gives are essentially the same for all people. They are messages from Mago, Mother Earth. Nature gives the same messages to all people because it doesn't discriminate. But some people do not have their eyes and ears open to perceive them.
To have your eyes and ears open, you have to meet certain internal conditions. You have to become very pure, which means you need to meet your True Self inside. A lot of people lose themselves as they go through their lives and live in the world with their preconceptions. But in the process of trying to listen to Mago's message, in the process of purifying yourself, you find yourself.
That's why I've been sharing about LifeParticles and that's why I wrote the book The Call of Sedona: Journey of the Heart. Through LifeParticles and the nature meditations in the book, people can recover the pure part of themselves they have lost.
To discover your True Self, your soul, there is no better place than Sedona. I've traveled all over the world and seen many beautiful places, but Sedona is really ideal for a person to find his or her soul. When you've found your soul, then you can really hear the voice of nature. Your eyes are open to a new world and you feel great trust, respect, and love for yourself beyond what you had thought was possible.
Sedona is such a beautiful place, but I would like to say that a person's soul is more beautiful. I wish all people could feel that about themselves, and experience that realization: "I am so beautiful!" That's what I hope The Call of Sedona and all of the meditation programs I develop will do for people—to help them see the beauty they already always have inside. When I think of the next 10 years, I really want to be able to aid the process of people discovering themselves. That's what I have in my heart.
At the launch of The Call of Sedona on Saturday, August 20, 2011 at the Sedona Mago Healing Center at 340 Jordan Road in Uptown Sedona, I will continue to share Sedona's messages and spirit. With the help of music, dance, and drumming, together we will celebrate the beauty of Sedona that is inside all of us. I will also be signing copies of the book. I hope if you are in the area you will join us from 5:00 to 7:30 pm for this special evening.

[Editor's Note: If you would like to come to the book launch, please RSVP to Yolessa K. Lawrinnce by calling 347-885-3456 or emailing yolessa@hotmail.com by August 17th.]