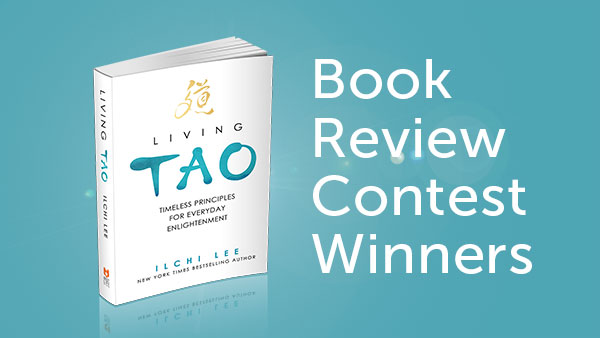 The publisher of Ilchi Lee's latest book, Living Tao: Timeless Principles for Everyday Enlightenment, held a book review contest from January 1st through 31st. They asked contestants to write a review of the book on either Amazon.com, BarnesandNoble.com, or Goodreads.com for a chance to win a cash prize plus a signed copy of the book. The following winners have been chosen by the publisher:
First Prize of $100: Anna-Lisa Drew
Second Prize of $75: Heather Preisig
Third Prize of $50: Sean Geiger
Here is what the reviewers had to say:
Anna-Lisa Drew
"Reading this book feels like a homecoming for me. The chapters cover every aspect of living from a Taoist perspective from money and relationships to the growth of your soul. I find myself lingering over chapters to soak up every word and meaning from them. The opening brought tears to my eyes it was so touching. I really felt the heart of the author through these pages and it awakens a longing in my own heart to live as one with the Tao. I urge anyone who is interested in growing their self from a caterpillar to a butterfly to read this book. I feel like I am flying with the realisations, both beautiful and challenging, that it brings. I am so grateful to have read this book."
Heather Preisig
"I've read many books by this Author. I particularly love this one. It's very easy to read and a great and concise guide. My Nanny passed away recently and I found this book was such a great source of wisdom and I could be much brighter about her passing and I feel a greater understanding about why we are here. I appreciate the way in which this book spoke to my heart. I read if before bed and it helps me sleep well."
Sean Geiger
"Ilchi Lee is so inspirational. Every book he writes gets better and better. Thanks to his teaching in this book and others I have found the meaning in my life I have been searching for for over 30 years. He shows us ways to improve your physical, spiritual, and emotional lives. My life now has meaning and direction. If you are like me, read this book and his others. Be well!"
Best Life Media has expressed their appreciation for everyone who wrote a review of Living Tao and hopes many more people will be touched by Ilchi Lee's book.
Living Tao is the most comprehensive book to date on the universal principles behind the self-development practices that Ilchi Lee has developed over the last thirty-five years. These practices include Brain Education and its specific expressions of Body & Brain Yoga and Tai Chi and the Solar Body Method. It was written for the layman in mind, using a language readily understandable to the novice seeker, yet containing wisdom that will enlighten even the most experienced.