I've been on a diet these days. I've been eating simply, and have slimmed down enough over the past few months that I can tighten my belt two notches. People say my neck and chin look a little more streamlined now.
Because of my diet, I usually eat foods that are basic staples of Korean cuisine—some black beans with sticky brown rice, dried seaweed, soy sauce, and kimchi (Have you tried it? It's spicy pickled cabbage). I've eliminated other side dishes and only eat about a third of a bowl of rice.
I still have dessert though– a few pieces of sliced aloe vera, with a little honey spread around the plate. Although aloe is not that tasty on its own, it's very healthy. Inside, aloe is transparent and slippery, with a consistency like jelly, so it's tricky to eat. The easiest way is to use a fork.
But I decided to eat it with chopsticks instead. I've always enjoyed a challenge, so I made it a game to see if I could eat all of the aloe with my chopsticks.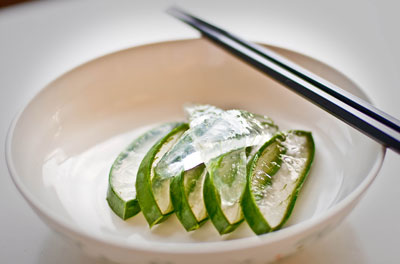 It was trickier than I thought it would be. Just touching the aloe with chopsticks made it slip away. For a while I was just sliding aloe around the plate. I almost got hold of a piece once, but the evasive little piece of aloe managed to get away.
I thought, "This is harder than golf," as I smiled to myself. But then I figured out the winning technique and in my excitement I shared it with someone from my staff that was having dinner with me and also wrestling with aloe.
I explained, "The angle is the most important thing. Don't hold your chopsticks vertically; instead, hold them horizontally, like this, and then lift the aloe between them. You have to control your strength as you do it. The aloe will run away if you use too much pressure, so you have to be gentle with it, get your timing just right, and then raise it like this."
Finally, I was ready to tackle my last slice of aloe. Despite my improved technique, it kept evading my grasp. I considered leaving it, but somehow, that didn't feel right. I kept wrestling with that last piece until I succeeded in sticking one chopstick in the middle of it while I held its side with the other. Then I quickly popped it into my mouth.
Happy with my success, I realized that this small accomplishment was a good example of how we can undertake other things in our lives. I'd made up my mind to eat the aloe with chopsticks instead of an easier method. If I had given up after a few unsuccessful tries, I would have never known I could do it. Eating aloe with chopsticks may not seem meaningful or important in the grand scheme of things. But it's a good lesson in never giving up, of making a habit of following through until we've done what we've set out to do. As I reminisced with my dinner companion, "We go through a lot of difficulties and obstacles in our lives, but I've learned that we can turn each of them into a stepping stone for our growth, and can let them lead to the creation of something new. Even in our darkest despair, we have the power to never give up. Because of that, we can always find a way to fulfill our dreams and goals."