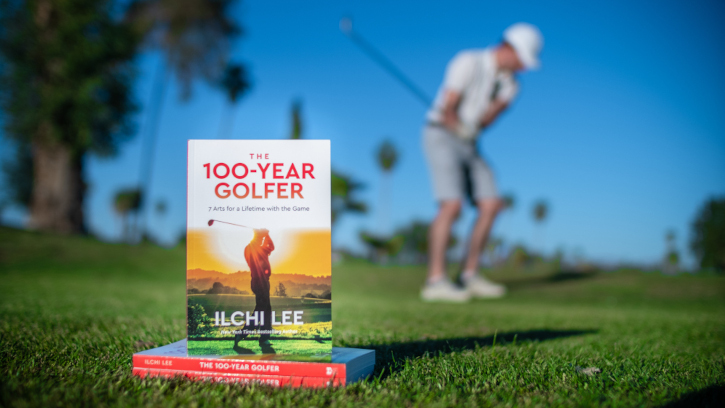 In less than a week, on June 20, 2022, Ilchi Lee's latest book will be released as a paperback and an ebook at all major booksellers. The 100-Year Golfer: 7 Arts for a Lifetime with the Game shares the wisdom he gained from playing golf for almost forty years. Through trial and error and a passion for the game, Ilchi Lee learned how to make golf more natural, joyful, and connected. Golf has become an integral tool for training his brain and body and for seeing himself clearly. All of his experience led Lee to want to golf until he's at least 100-years-old, and this book shows you how.
The 100-Year Golfer includes the author's personal stories as well as illustrated exercises that connect body and mind to strengthen your game. Testimonials support practical advice, and a new YouTube channel, Ilchi Brain Golf, makes the book's tips and exercises easier to follow.
This new book can be found for pre-order now. The publisher, Best Life Media, is offering access to a free seventy-minute video featuring exercises from the book during the pre-order period. This class includes qigong exercises and is taught by Ilchi Lee's student, Body & Brain Yoga instructor David Driscoll, who is also an enthusiastic golfer. The video can be viewed after entering your name, email address, and book purchase receipt number here on the book's official website.
An audiobook version will be released shortly after the paperback and ebook.
The 100-Year Golfer has already attracted the attention of notable golfers and golf writers. Yeonhee Han, former coach of the South Korean National Golf Team, said about the book: "I saw a new horizon in golf by reading The 100-Year Golfer. . . . I would like to recommend this book to golfers who need golf for themselves, not for recognition from anybody else." Sangho Choi, a South Korean golfing legend who holds the record for most wins in KPGA history explained, "This book reminds us that training the body and mind is a shortcut to better golf. It presents practical meditations and unique exercises, along with the inspiration to make golf part of a deeply fulfilling life."
More information about this upcoming book and links to purchase it can be found at ilchi.com/the-100-year-golfer.