I was born during the Korean War in the year 1950 with the sound of bombs and cannons going off around us. When I was born, it was not a peaceful time. That's why I love peace more than anyone, and I also want happiness. I'm always thinking, "Isn't there some way we all can be happy. And isn't there some way we all can be peaceful. Who brings happiness and peace?" I would contemplate these issues. And then I made a discovery. Happiness and peace are not something that your neighbors need to bring to you. You make happiness and peace yourself. That's your creative power.
How do you create peace and happiness? By managing your emotions. Emotions are constantly changing. Love, hate, fear, loneliness—these emotions always shift from one to another. Despite the transient nature of emotion, most people self-identify with it. They say, "I AM happy. I AM sad." To them, emotions are something that just exist and that they have no control over.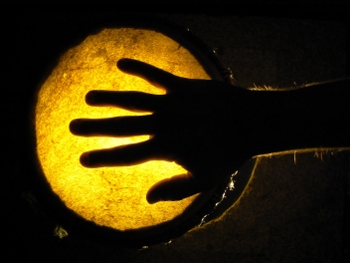 Instead, you can think of emotion as a musical instrument. An instrument makes a range of notes, and you can choose which notes it makes at what time. Once you learn how to play an instrument, it can be a lot of fun to make music with it. When you learn how to play your emotions like you play a musical instrument, then you won't become enslaved by them.
In order to play your emotions, you need to discover your soul. When you have a direct experience of your soul, and even have a conversation with it, you can see the difference between your soul and your emotions. You gain a little separation between the real you and your emotions. From that vantage point, you can see the full range of notes you can play, and you gain the power to choose the ones you want to experience and express. Your body and your emotions become a vessel of creation.
The question is, how do you meet your soul? Everything that you can see and are conscious of is made of particles. Even the emotions that you feel are subatomic particles; they're LifeParticles. Your soul is also LifeParticles. Particles are the what connect everything.
Experiencing the LifeParticles in your body is an important key to encountering and meeting with your soul. If you can feel the LifeParticles in your body, what does that mean? That's like somebody who knows how to swim really enjoying themselves and being free and happy in the water. On the other hand, people who cannot control their emotions and are dragged around by them are like the people who don't know how to swim and are tossed around by the water. When you feel the LifeParticles in your body, then your awareness changes. You become conscious of the flow of life inside you.
All you need to do to sense the LifeParticles is move your body and focus on its feeling. As you move, you'll find a rhythm; it's a rhythm that makes your body and soul happy.
In this flow of movement and energy, your emotions also flow. They flow out of you safely instead of being stuck inside. When you release enough of the energy that is normally stored as tension in your body, you reach a quietness and peace, even within the constant flow of energy. In that stillness, you can sense your ever-present soul.
If you're feeling very lonely, you're not going to meet your soul. In that state, even if someone is hugging you, you won't even notice. Or when you're lost to fear or sadness, then you can't hear the whispering of your soul from right inside you. In the same way, if you've got really muddy water, you can't see what's at the bottom. But when the water becomes still and calm, then everything settles and you can see the bottom.
The thing that your soul loves the most is LifeParticles. Doing LifeParticle meditation—sending yourself or other people or situations LifeParticles—changes your emotions from negative to positive, from down to up. Meditation is a powerful way to stay in touch with your soul and play your emotions like an expert musician. It's a way you can create your own happiness.