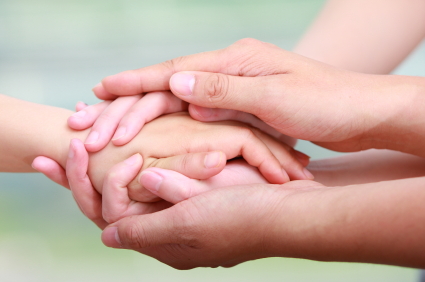 It has already been five days since Japan was struck by the devastating earthquake and tsunami. When I heard the news, I was filled with a sadness I can't describe as I felt the pain of Japan and its people. My heart goes out to the innocent souls whose lives have been cut short and to those who have lost so much in this tragedy. At the same time, I feel great admiration for a people who uphold honor, treat each other with respect, and maintain order in a time of fear and confusion.
Struck by a crisis of this magnitude, people naturally ask, "Why?" Why do things like this happen? Seeing products of human civilization reduced to wreckage in a matter of moments by the unrelenting forces of nature makes me think, "What is the relationship between humans and nature?
What have we communicated to the earth, and what message is Mother Earth trying to convey to us now?"
We may consider these events to be natural disasters, but we have to realize that they are actually the result of choices that each of us makes, no matter where we are, and our collective behavior as humanity. We cannot produce greenhouse gases, dispose of our waste the way we do, consume our natural resources, and otherwise destroy the environment of the planet we live on, without expecting to pay for the consequences. It is truly unfortunate that this time, Japan footed a hefty chunk of the bill.
So, what must we do now? First, we have to know that any time a tragedy like this occurs, those who are directly affected are not strangers. Even if we don't know their names or faces, they are our brothers and sisters, our elders and our children. They're precious members of our human family, and we cannot hesitate to offer what help we can to those who need it.
We must also realize that each of us is responsible for the future of the earth and humanity, and take action. When all of us think, "Change starts with me," and focus on the happiness of all of humanity as a whole, we'll really start to see huge changes. This would be, in effect, the practice of Hongik, which is a Korean term that describes working for the good of all.
More fundamentally, we need to strive for the evolution of human consciousness. This kind of growth involves, rather than gaining something more, peeling away the layers of selfishness, ego, and preconceptions that surround our original, pure and loving essence—what makes us human, and what I call the True Self. If we restore humanity's True Self, not only will we recover our respect for nature, including our own physical bodies, and our ability to connect with Mother Earth, we will treat all of our fellow human beings with real care and respect.
To all the people in Japan, I know I can say on behalf of many people in the U.S. that our thoughts and prayers are with you. Let's pray for the souls of all the victims and for Japan's speedy recovery, and let's keep working together and in harmony with the earth to create a peaceful world.