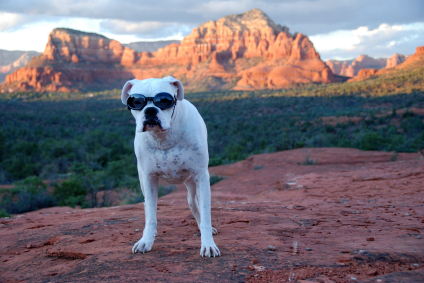 If you are living in Sedona or if you have ever visited, how would you describe the Sedona spirit? There are three characteristics that I would pick out, and I would encourage every visitor who comes here not to miss the chance to feel them and take them as their own through their experiences.
More than anything else, the Sedona spirit is a spirit of creation. The pristine beauty of nature in Sedona, its sky and red rocks running a gamut of brilliant colors with the light of the desert sun, awakens a profound, immense creativity within us. No matter what difficult situation we may face, we are able to change our surroundings and create them anew according to our own choices. We can choose hope, no matter what the situation. And, with incredible creative power, we can design our lives and be the drivers of our destiny.
The Sedona spirit is a spirit of interacting with the earth. The open sky so wide and deep above the red rocks; the juniper trees and cacti that emanate intense vital power; the golden full moon that cuts through the night in the desert; stories of the Native Americans, who lived in harmony with nature—all these components of Sedona's environment help us to be aware of ourselves as life forms, feel the earth, and have energetic and spiritual interactions with it. The experience of interacting with the earth connects us with a greater and more permanent power beyond the limited and finite self, to bring us spiritual fulfillment and a sense of oneness, of belonging. It leads us naturally as members of the planet Earth to earth-centered living in which we coexist with all life forms.
I would like to express the characteristics of a new lifestyle that pursues the Sedona spirit as "Awakened Living." The essence of Awakened Living is that it doesn't separate spirituality from everyday life. The age in which pursue spirituality deep in a mountain or in mystical doctrines, completely disconnected from everyday life, is over. I believe that the true spiritual lifestyle—a lifestyle of discovering and creating the meaning and value that makes us alive—happens in the here and now, where our work, people, lifestyle, and passion are tied closely together.
For Awakened Living, you need wisdom that doesn't coincide with a religion or value system that systematizes spirituality. As we already know, the most important questions in life aren't answered by experts or by systems. They can help us on our journey to look for questions, but finding the answers is always something each of us must do for ourselves. We are each the one and only experts, writers, and authorities of our own lives.
If you have come to Sedona, don't forget to take these three elements of the Sedona spirit to incorporate into your lifestyle. In "Sedona spirit," Sedona is more than just a land of red rocks in northern Arizona. Sedona is a space of infinite creation in your heart; it's your greatest dream and the most sacred moments of your life. And it is your courage to choose hope even in the most difficult moments of life.