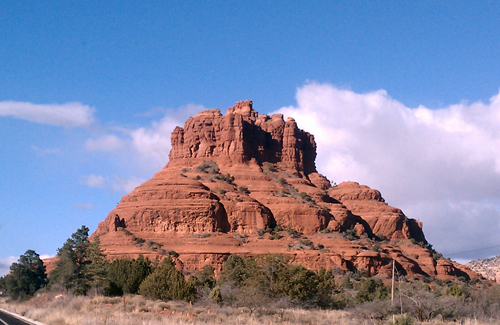 A couple of weeks ago, I climbed to the top of Bell Rock for the first time in a very long time. Sometimes I went more than once a day when I was first getting settled in Sedona, but in recent years I haven't had many opportunities to climb up Bell Rock. That day, Bell Rock was as welcoming as ever in the warm afternoon sunlight. I had almost reached the top, when I looked up between the tall red rocks and saw the spotless blue sky between them, and my heart leapt as though it were the first time I'd ever seen such a sight.
Standing next to Bell Rock, Courthouse Butte glowed golden as the sun started to make its way down, and the branches of the pine trees stirred gently in the evening wind. That day, as I meditated for quite some time at the top of Bell Rock, I thought of all the people who visit Sedona, said to number in the millions.
It suddenly occurred to me that the people who come to Sedona are like salmon returning to their natal stream during the spawning season. Salmon hatch in a river and go to the ocean; then, when they have matured and it's time for them to lay their eggs, they return to the stream where they were born. At times, the journey is so difficult that their whole body is beaten to a pulp as they give all their effort to swim upriver. Salmon that have come back to their natal stream in search of the origin of their life lay their eggs and either return to the ocean or die there.
Many people come from neighboring cities such as Phoenix, Tucson, or Los Angeles, but a far greater number of people come to Sedona from all over North America, or even as far away as Asia or Europe. What is it that calls people to Sedona?
There must be a vast diversity of superficial reasons why each person comes here, but I think there's a certain something—a yearning, perhaps—that makes them head for Sedona like salmon returning to their natal stream. People don't come to Sedona just to enjoy the view. They want to have a new experience—something that stirs them, a new adventure, or fresh inspiration. I believe that the yearning for something new to breathe vitality into a lackluster life is an inherently spiritual pursuit.
After I came down from Bell Rock that day, I put a label on that certain new something that people are looking for when they come to Sedona: "the Sedona spirit." And then, I put some more pieces of my own story together as I realized that the force that first drew me to Sedona, the essence of everything I have experienced here over the last 15 years, was this spirit of Sedona.