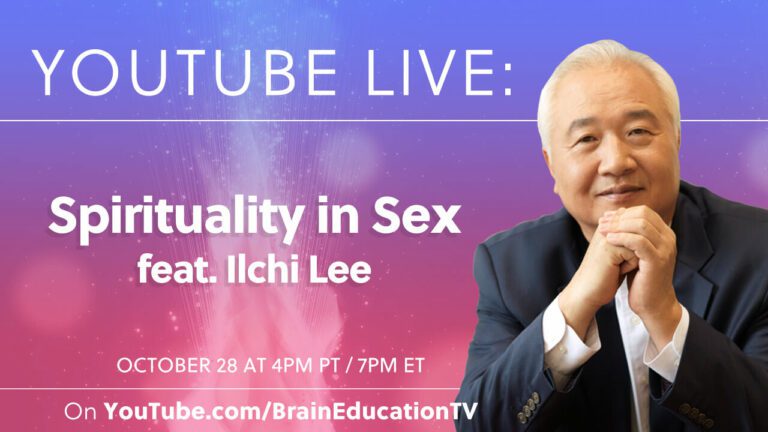 Join Ilchi Lee for his next Live Q&A on "Spirituality in Sex" on the Brain Education TV YouTube channel this Thursday, Oct 28, 2021.
You'll have the opportunity to chat live and ask questions, but channel hosts Linda Yoonjin Suh and Gabi Petrylaite have also prepared some questions beforehand:
Sex is a very important aspect of having a fulfilling relationship and marriage. But, some may find themselves feeling sexually unhappy with their partner and also not knowing what is missing. What do we need to do or prepare both individually and as a couple to create a beautiful, fulfilling, and happy sex life together?
There are some men and women who experience intense sexual urges that result in compulsive action to release sexual energy. Is sex and sexual energy an obstacle to spiritual growth and enlightenment? If so, how can we redirect our sexual energy to propel spiritual growth? In other words, how can we stop fighting with our sexual energy, and instead, develop a good relationship with it?
Spiritual sexual union is typically described as yin (female energy) coming together with yang (male energy). Is that possible only between a man and woman? Can same sex couples experience a spiritual sexual union as well?
What happens to the energy in my body during sex? Are there things couples can do to connect spiritually and energetically to exchange deep love?
Watch the Live and Set a Reminder here.
About Brain Education TV
Brain Education TV provides mental health and mental wellness videos to help young adults with loneliness, depression, and anxiety. The foundation of our content comes from Brain Education, an academic study from South Korea created by Ilchi Lee that stems from over 40 years of research and application and has been practiced by millions around the world.