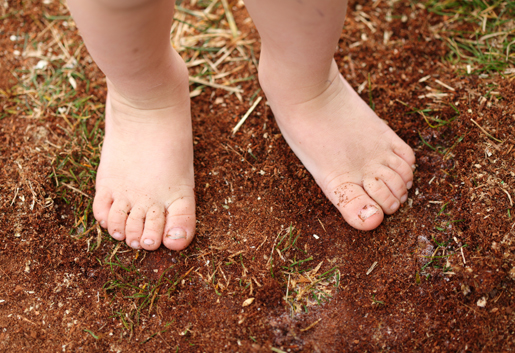 When you get used to the hustle and bustle of city life, it's hard to feel the bottom of your feet even once during the day. Oftentimes, we have fewer opportunities to walk, or even if we do get to walk, our thoughts tend to be more heavily weighted up in our head and our attention is unable to reach our feet. Then we grow increasingly distant from the ground, and our concern for other life forms nurtured by the earth keeps decreasing.
Try standing up straight on both feet right now. If possible, remove your shoes and socks, and stand in your bare feet. Adjust your position so that you can feel the sensation of your feet sticking to the floor, without leaving any space. If you stand this way and focus carefully on the soles of your feet, at a certain point, you'll be able to feel the weight of your entire body resting on the bottom of your feet. Try to find that sense of your body weight being distributed evenly to your soles, without obstruction. You can also feel the weight of your body being conveyed to the earth through your soles, as well as the strength of the earth as it supports that weight.
This sensation isn't merely a sense of physical weight or pressure. It's a vivid feeling of life. You can feel that fresh sense of being-ness, that sense of "I'm here and I'm alive," arising naturally from a place deep in your heart, along with gratitude and humility toward the earth that supports you.
The stronger the sensation in your soles becomes, the stronger the sensation at the top of your head, directed toward heaven, will be. Beneath you, the earth gives you solid support. Above you, infinite space is open to you. As you stand with your feet firmly planted, feel your body connect heaven and earth. Below, you can feel your sturdy legs and a lower belly that's full of energy. Above, feel the refreshing openness of your heart in your chest and the cool clarity of your head.
With your feet firmly planted like this, walk the path of the human, under heaven and upon the earth.