On March 4, 2014, I attended the entrance ceremony for the new alternative school I founded, the Benjamin School for Character Education in South Korea. Twenty-eight students have enrolled for the first term of what will be primarily an online school combined with field trips and gatherings. This school is one answer I've found for the reform that is sorely needed in education.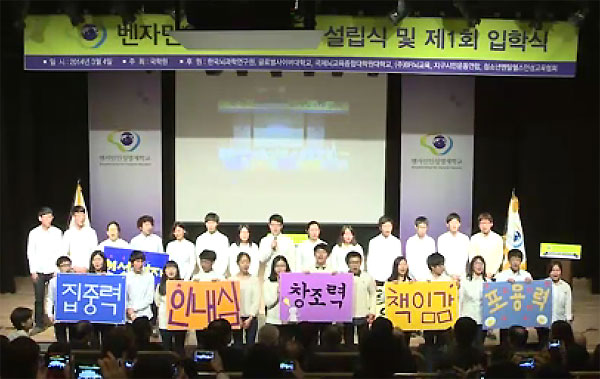 In the current era, more than prodigies in mathematics, science, athletics, or art, I believe we need prodigies of good character and integrity. People who have polished their character and integrity until they shine are the ones who can be the real heroes the world needs to solve its problems. I think that, when people have the correct understanding of the meaning of human character, there will be a solution.
The computer operating systems (COS) that came out in the 20th century made our lifestyles much more convenient, however, they had negative side effects as well. To counteract the alienation and materialism of modern society that thwarts our humanistic values, we need to use our brains well, so I think for the 21st century, knowing how to use our Brain Operating System (BOS) is very important. When we use our BOS for selfish desires or greed, we are not putting it to good use. However, our brain gets excited and stimulated when we use it with the Hongik spirit, or the desire to do what is best for all people and the earth. The key to developing our character is in our brain, and the key to using our brain best is developing our character.
Because Brain Education is a study and a method of how to use our BOS and uncover our Hongik spirit, it is the foundation of the school's curriculum. Brain Education has already been recognized as an academic discipline by the government of the Republic of Korea. So far we've made bachelor's, master's, and doctorate degrees in it, but the Benjamin School for Character Education is designed for high school students.
This new school is named in honor of Benjamin Franklin because I believe he is a role model of self-development; he made a commitment to developing his character that he maintained throughout his entire lifetime. Although he was involved in politics, even as a politician he honored the values he established for his life; and while he was involved in many activities, he kept the completion of his character as his goal.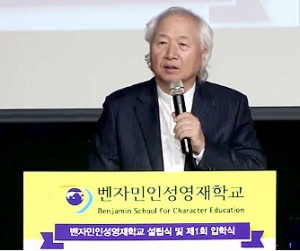 A school that has the completion of human character rather than money, fame, or power as its standard, a school for practicing the Hongik philosophy in everyday life, which the 21st century earth wants, a world where the earth becomes our very school, the kind of era in which the earth becomes a training grounds for human completion is the kind of school and the kind of era we inaugurated that day. As I stood at the podium that morning watching all in attendance, I felt that all of the books I've written over the years, all of the methods I developed, and the organizations I created were ultimately for the sake of launching of that school. Although it is a small beginning, it is significant. That moment's significance and value seemed to be felt by the 28 students, their supportive parents, and all of the eminent guests who cam to bless the occasion. I was honored that former South Korean prime minister Suseong Lee came to the event, as well as people all the way from Japan and many people whom I have always respected.
I believe that a change in awareness brought about by a change in education will be the very start of a new era in which all life is valued and meaningful, and people are free and capable of expressing the Hongik spirit in every aspect of their lives.