A light drizzle fell over the 5000 people gathered at the Han People Historic and Cultural Park on the evening of July 3, 2010 in Cheonan-si, South Korea. All of the them are there because they are passionate about teaching Dahn Yoga for free early every morning in parks throughout the country. Approximately 1200 of those present are teaching now, and many others have either taught before or are interested in teaching in the future.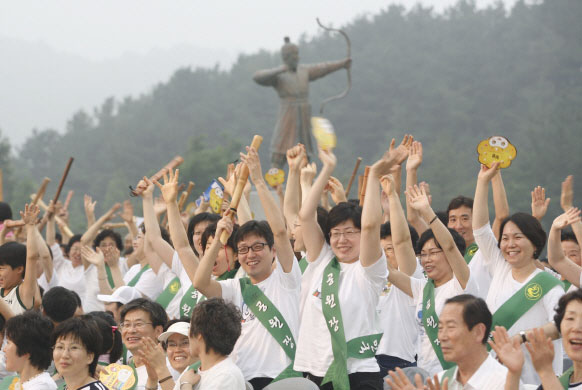 As I stood before them, the throng of people touched my heart. It beat passionately for these people who, like I did 30 years ago, go out to the parks and teach with a conviction for helping people and creating a better world. When I first began teaching at a park in Anyang, I didn't have anything with which to share my dream of health, happiness, and peace for humanity and the earth except my will. The park was the only place I could start to create my vision with my body.
Now this small beginning has grown into Kookhak Kigong, a volunteer movement organized by the Kookhak Kigong Association to share traditional Korean mind-body exercises in parks throughout the country. The Korean government has publicly authorized it as an official health program for the Korean people.
Most people who teach Kookhak Kigong in the park discover that enlightenment is not a huge thing. Instead it's as simple as waking up early in the morning and helping their neighbors who need it. Through that experience and realization, they find their true value. Although they deliver health to people, more joy comes to themselves.
In reality, my enlightenment started not at the top of Mount Moak, but in the park. That's also where it became real. So teaching at the park is very special to me. My first student was a stroke patient, and as I worked with him, I soon I felt so many people's eyes on me, asking for help. I communicated with all of them with my heart. I felt that those 5000 volunteer instructors had the same awareness. That's why being with them really made my heart beat.
At the gathering, I taught them the Earth Kigong form. I hope the experience of feeling, healing, playing, and becoming one with the earth through Earth Kigong awakens a new awareness of and the ability to sense the earth.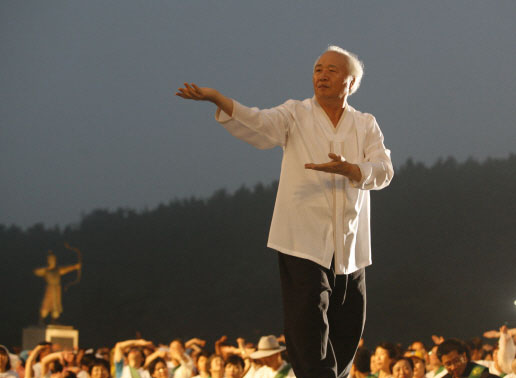 My 30 years of having a dream in my heart, of finding the way to help myself, my country, and humanity, started at a small park and revived a sense of caring, feeling, and communicating with the hearts of others. I hope they have experienced the same things.
That evening, fireworks in the shape of a phoenix soared through the dark sky. Like that phoenix, I hope our peaceful message of love for humanity and love for the earth will soar to 100 million people.