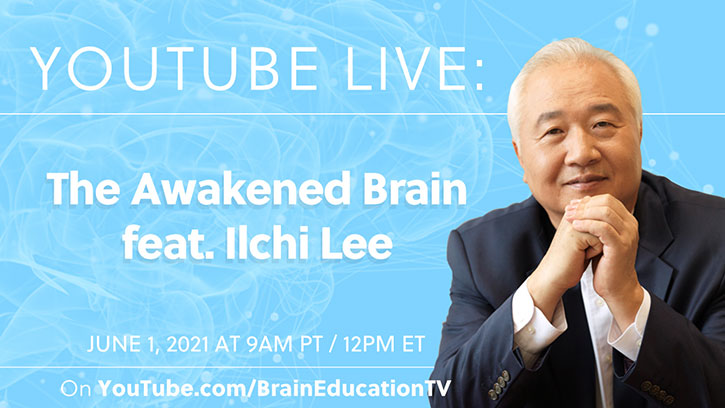 Ilchi Lee will be a guest on the Brain Education TV YouTube channel for their YouTube live next Tuesday, June 1, 2021 at 12 pm Eastern/9 am Pacific. Lee will answers questions on "The Awakened Brain." Join him to understand how you can use your brain more powerfully, productively, and authentically. He'll also discuss his 40 years of work with Brain Education and what living with an "awakened brain" really means.
Click here to watch!
Join Ilchi Lee for a YouTube Live with Brain Education TV
Click To Tweet
Brain Education TV is a popular YouTube channel based on Ilchi Lee's personal development system called Brain Education. Hosts Linda Yoonjin and Gabi Petrylaite provide practical tips, lead Brain Education mind-body exercises, and share stories related to mental health and wellness. They aim to help young adults cope with the depression, anxiety, and loneliness that is so common today. Their work has expanded off YouTube to teaching Brain Education programs to high school students, speaking at conferences, and providing personal coaching.
Learn more about Brain Education TV
Ilchi Lee developed Brain Education over the last 40 years, combining his own experience with research. It has become an academic study and has been practiced by millions around the world.
Related Posts