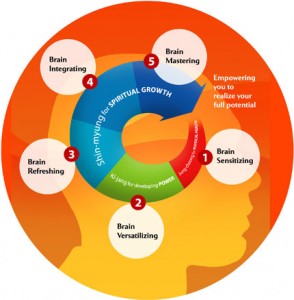 Although all people have brains, they may don't know their brains well and may not have had a personal experience of them. They can't "feel" their brains. However, everything about us originates from our brains; they affect every aspect of our bodies, minds, and lives.
Our brains themselves are affected by the information they receive and hold. Therefore we can manage our brains, and consequently our bodies and our lives, by managing the information in our brains. We can take out harmful information and insert healthy information to create healthy brains. That's why I developed Brain Education.
A healthy life, a healthy death, a healthy society, and even a healthy planet are dependent on everyone having a healthy brain. In Brain Education, I systemized breathing, brain exercises, and energy meditations into five steps for making your brain healthy.
A healthy brain is a happy brain full of confidence and creativity. It generates a character with a strong conscience that respects others and wants everyone to be happy. The consciousness of a healthy brain is clear and without stress or anxiety.
When enough people have a healthy brain we can create a culture in which everyone's opinions are respected and everyone is responsible for their own happiness and that of others. In this spiritual culture, all social systems are oriented toward the values of a healthy brain. With Brain Education, each of us can live a happy life based on our conscience and help others do the same.