"Even in my dreams, how could I forget the place where
My young sister, black braids dancing like nighttime waves on the legendary sea,
And my unassuming wife, close to nature with feet naked in every season,
Picked grain, their backs kissed by hot sunlight?"
– From Nostalgia, a poem by Ji-yong Jeong
My heart becomes quiet whenever I recite Nostalgia, a poem by Ji-yong Jeong. "My unassuming wife, close to nature with feet naked in every season…" I find this description of his wife more affectionate and intimate than I can say. Although his external, mundane, and possibly unflattering description may give the impression that he's rather morose, any husband in the world who loves his wife can easily understand the how much he cherished his wife, and the comfortable trust he had for her.
I met and married my wife, Jungsook Shim, in 1976, so this year it's already been 34 years since we started a family. During that time, I wasn't able to be a good husband and father because I was so focused on my path in search of the Hongik dream, a dream to benefit all humanity that excited my soul and gave me a reason to live. However, in one part of my mind I am always sorry about it, and have deep gratitude toward my wife, who has always stood by me.
Jungsook is quite lovely. She was a testing supervisor when I went to take an exam to be certified as a clinical laboratory technician after college. Her eyes were so pretty and clear that I fell in love at first sight.
I tried to do whatever it took to grab her attention and strike up a conversation with her. So with the brashness of youth, my hand shot up and I called to the test proctor, my wife-to-be. I asked her jokingly: "I didn't study much for the test, so I don't feel confident about it. That guy way up front looks like he knows what he's doing. I'd appreciate it if you could sneak a look at his answers and let me know what they are. Ha, ha. I'll take you out to dinner if I pass the test." She shot me a look that said, "You're hopeless…"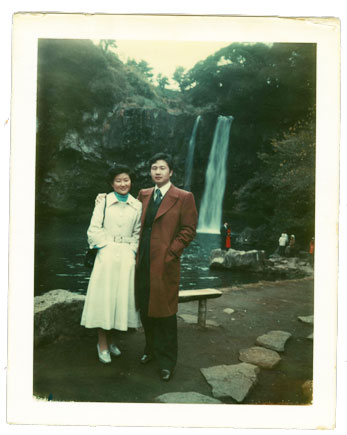 From our honeymoon on Jeju Island
That exchange led to a connection between us, and we eventually became husband and wife. Beginning with our first year of marriage, however, I devoted myself to mind-body training; every day I would leave the house at dawn and return late at night. Even so, I did fulfill my minimum obligations immediately after we got married, working as a government employee and running a mineral water business. However, when I started running a Dahn center after completing my 21-day ascetic practice on Mount Moak, I was so busy that I was practically a stranger to my family.
My wife probably resented me for not being there when the kids were sick, when we had financial difficulties, when people misunderstood her because of me, or when she felt tired and alone as a woman facing the challenges of life by herself. Even so, she never once expressed any displeasure, and is my most dependable supporter and partner. She continues to watch over me with constant love and faith.
Eventually Jungsook became more actively involved in my greater vision. In 1998, she opened CGI in New Jersey, a fitness center symbolizing Heaven, Earth, and Humanity (Chun Gi In, "CGI" is its abbreviation). My wife managed the whole project from start to finish. She went through a lot of hardship because she had no previous experience with construction, and confronted language and cultural barriers. The day CGI opened, she wept as though she would never stop.
CGI has secured a reputation as one of the most popular fitness centers in northern New Jersey. Though now the building is 12 years old and requires maintenance here and there, it always welcomes customers with great service and clean facilities. I know my wife contributed a great deal to CGI's good repute.
Later I acquired an old resort in the Catskills Region of New York. Jungsook took on the project to turn it into the world headquarters of Brain Education. The facilities are old and require more than just one or two repairs. Because of their condition, many people, even locals, did not want the resort. But despite the challenges, Jungsook took the initiative and has developed the business herself. I feel so sorry that she has had to take on so much.
Once I was passing by the entrance when I saw workers tending a flower garden. Among them was a middle-aged woman who was bent down and digging with a hoe who somehow seemed familiar. I realized that that woman was my wife.
Jungsook has thrown herself into her work. Her soft hands have become rough, and her light skin has darkened from hours in the sun. Wearing comfortable shoes, she's always working hard, constantly walking up and down the stairs in the building several times a day. My wife works so hard because we share the same dream.
When I see my wife like that, I feel welling up within me a deep respect and trust, feelings for which the expression, "love," is inadequate. What more do I need to say. Words like, I love you, I'm sorry, and thank you are not enough. That's what Jungsook means to me.