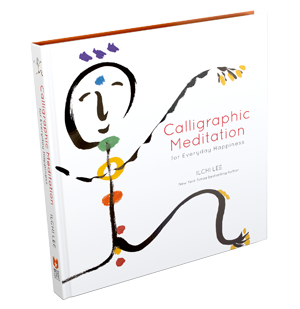 After more than 30 years of creating brush calligraphy through meditation and displaying them in shows, Ilchi Lee has put the best together in a beautiful hardcover. He's paired them with simple, yet profound insights that expound on the meaning behind each piece.
Publisher Best Life Media will release it widely on April 1st, but it is currently available on their website and at ChangeYourEnergy.com.
About his new book, Ilchi Lee said, "I made each stroke of the brush in a state of nothingness—complete presence—with the intention to communicate my wish that each person who looked at my work would discover their unconditional and limitless capacity for happiness. This book also contains messages that can help every human being discover their value and put it into practice."
Here is a sample for you . . .
Your Perfect Refuge
Set your body down comfortably. As you control your breathing, let your mind watch your body. Tell yourself, It's all right. Then your soul will become more comfortable, and your body will gain new comfort and strength along with it.
You can obtain genuine strength and rest within yourself. Your body is your refuge and your energy generator. Your perfect refuge is inside your body. When you're shaken and confused, go into your body.
If you relax your body, control your breathing, and tell yourself, It's all right, with those words your soul will gain strength. You cannot find true rest outside yourself, no matter how far you may drag your body. Our souls gain greater strength from comforting ourselves than from being supported by others.