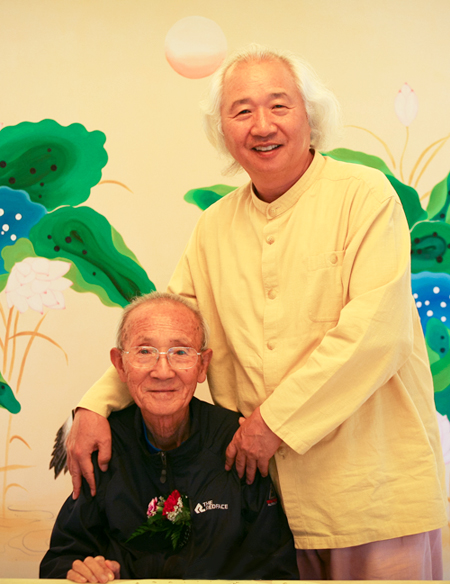 May 8th was Parents' Day. In Korea, instead of having a separate Mother's Day and Father's Day, we celebrate Parents' Day. My mother passed away last year, but I had a wonderful time with my father on Parents' Day.
Dad is already ninety years old. I still talk so much with him when we're together that we could stay up all night and it wouldn't be enough time. His extensive experience in academics and wisdom about the ways of the world were always like a compass to me in my life. But I notice that although my father is hale and hearty, his body is growing smaller with age. I felt my hands tremble a little as I affixed a carnation at his chest just before breakfast, and I thanked him with all my heart, told him how much I appreciate him for being my dad. He smiled brightly and said, "This is the best day of my life!"
I recently invited him to Jeju Island, and we got to go sightseeing and spend some time together. He said it was the first time he had been to Jeju Island in ten years, and he thoroughly enjoyed himself. I think in a small corner of my heart, I feel sorry that I couldn't take better care of my parents and my family because I spent so much of my life traveling all over the world for my dreams and my vision.
Somebody asked Dad if I wasn't mischievous as a young boy, and he reminisced about my childhood days. What he said about me was, "He was more of a good son than a troublemaker. When he went out in that cold by himself to go all the way to buy meat on his grandmother's birthday, he was so young, but he wasn't scared. And he was always more concerned about other people than himself… When he was little, during the morning assembly at school, he wasn't even a teacher but he would go around making the kids line up because they weren't lined up properly, and the teachers saw that and had a good laugh."
My father has been an educator his whole life and is accomplished in the Chinese classics and feng shui, as well as the philosophy of the Korean heritage. He's the one who first taught me about Grandfather Dahngun, who founded Korea on the Chun Ji In philosophy that holds that Heaven, Earth, and Human are one. He always believed in me; Dad was the one who said I was a "late-bloomer" when I couldn't adjust in school and was struggling to get my bearings in life. Without him, I wouldn't be where I am now.
Thanks, Dad. I love you.