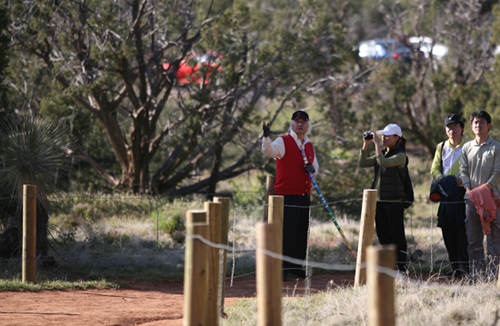 Not long ago, I climbed up Bell Rock in Sedona for the first time in ten years. Bell Rock is famous for being one of the main vortexes in Sedona, but it's also especially meaningful to me.
When I was first settling in Sedona, whenever I felt the tremendous weight of my vision and mission, I went up Bell Rock. I climbed it night and day, sometimes early in the morning or even late at night, in the moonlight. I found comfort in feeling the heart of heaven and the heart of the earth. Bell Rock was a friend, a vision partner, and a spiritual teacher to me.
So climbing up Bell Rock for the first time in so long brought back fond memories and filled me with excitement.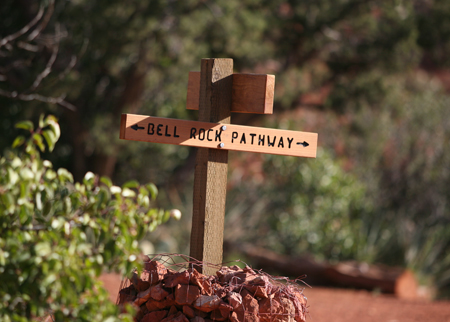 When Climbing Up Bell Rock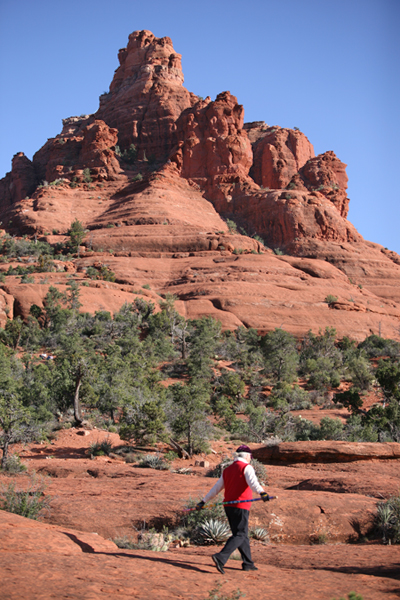 Bell Rock is a place where the soul of Mago, Mother Earth, and Sedona's sacred spirit abide.
When you climb up Bell Rock, you must first set down all of your worldly desires and have a pure desire for earth peace and the evolution of the human consciousness.
Second, every time you take a step, you have to imagine that you are stepping on your aged mother's body, and step with care and devotion. As you do so, you'll feel a connection with Bell Rock's body and energy.
When you climb Bell Rock with that kind of pureness and sincerity, you'll feel Bell Rock opening its doors to you.
Bell Rock is a red rock mountain, but because it's infused with powerful energy and a sacred spirit, it's also like a living being. It has an energy system very much like a human body, so each spot has a special significance and its own unique energy.
I'd like to show you a path you can take to climb to the top of Bell Rock.
Start at Bell Rock's Dahnjon
Not far from the entrance of Bell Rock, there's a wide, flat area, and this is the dahnjon location for Bell Rock.
Just as the human body needs for the dahnjon, located in the lower belly, to be hot and full of energy in order to be healthy, Bell Rock's dahnjon gives the impression of being very solid and stable.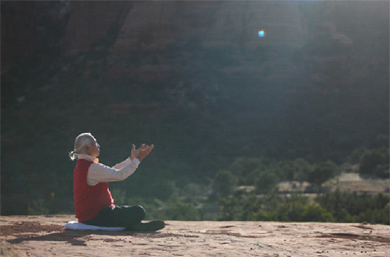 I practiced Unki Joshik here, at the dahnjon location. (Unki Joshik involves circulating energy with deep, steady breathing.)
Going Up Bell Rock's Immaek (Conception Meridian)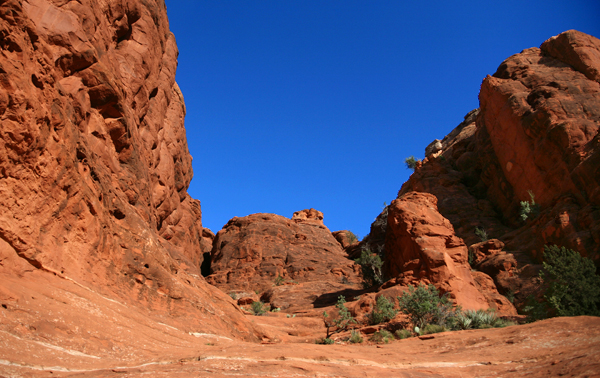 Here's a picture of Bell Rock's immaek (the energy channel that flows down the center of the front of the human body). This is the safest way to climb to the top of Bell Rock. It's amazing that there's a path here, as if it were carved into this bell-shaped rock mountain, that leads all the way to the top.
If you climb up along the immaek, it's rather steep, but you get the feeling that you're being protected by a certain energy, and that you're safe in your mother's arms. Along this path, you can find energy points that would match the corresponding points on a human body, such as the chest where the middle dahnjon is located, the Seung-eup point where the immaek ends, and the Injoong point where the dokmaek (the energy channel that flows up the center of the back of the human body, along the spine) begins.
Reaching the Top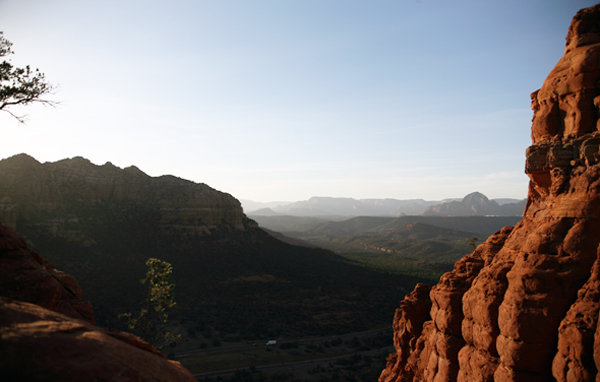 I got through a few dangerous spots and finally reached the top. At the top of Bell Rock, I looked around while I let my sweat cool.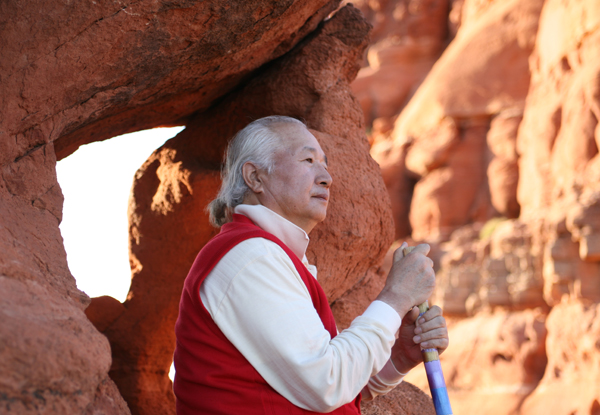 And I felt the heart of the earth and the heart of humanity. I felt Mago, Mother Earth's sincere heart and pure, infinite love for humanity embracing my body and mind.
I felt the earth's sacred soul and great love. Carried by LifeParticles, that mind flows out as movements of Unki Joshik and Unki Shimgong.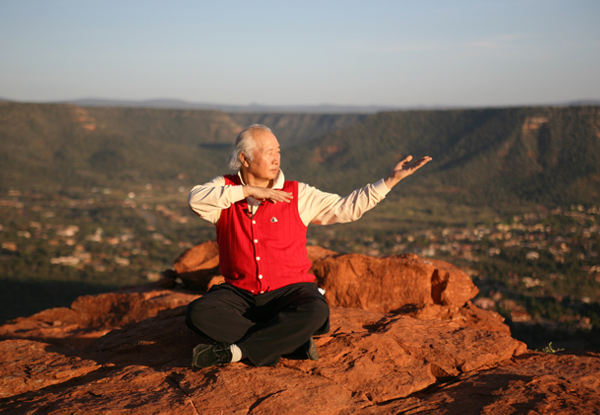 With every turn of my body and each movement of my fingertips, I tried to express the ecstasy of enlightenment and great love for all life.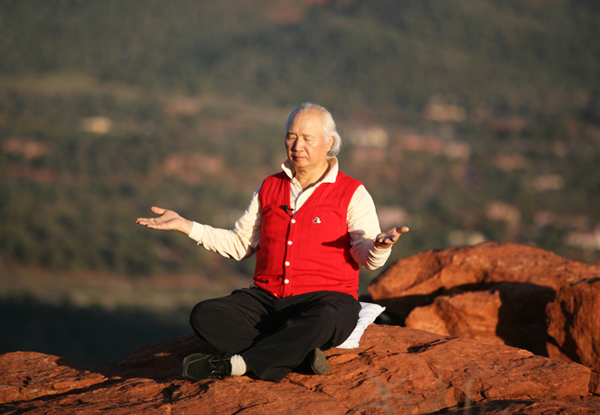 When Unki Joshik and meditation grow deeper, it becomes prayer. I feel love toward all life and my yearning for peace on earth like a volcano, overflowing and filling all the spaces of Bell Rock and the earth.
At the top of Bell Rock for the first time in ten years, my soul, my heart and the life in my whole body sing and dance with burning passion. I have a dream that seems impossible because it can't be seen through the eyes of the physical world. But with the eye of enlightenment, the third eye, a world of completion is clearly visible.
I want to go with all of humanity to that place where the LifeParticle Sun shines.
"Hongik Ingan Ehwa Segye, Isang Ingan Han Segye"
I envision a world of harmony formed by humans serving the greater good, a world of unity filled with such ideal human beings.