A simple shift in perspective can change the perception of your entire life. This slice of truth is the impetus behind the Change Project, an endeavor to change people's perspective so they can discover their true limitless potential. Consisting of a film, book, website, and screening/lecture tour, this project provides ample opportunity to learn how unconscious thoughts, behaviors, and emotions have created your life and the world that we live in today. It also offers practical methods for you to delve into your current thought patterns and insert the ones that will steer your life in the direction you want to go.
This unity of consiousness and matter that defines your life and our world has been dubbed the Theory of LifeParticles by Ilchi Lee. LifeParticles are what he has called the smallest units of life—they make and move everything. Everything in existence is a gathering of LifeParticles, including your thoughts and intentions, which affect LifeParticles as well. The Theory of LifeParticles explains the ability of all human beings to create their reality.
The Change Project begins this month with the premier screening of the film Change: The LifeParticle Effect at the Sedona Creative Life Center in Sedona, Arizona on April 16, 2013. The premiere is sponsored by the Sedona Meditation Center at 340 Jordan Rd, which provides yoga and meditation based on the methods Ilchi Lee has developed. The rest of the tour is sponsored by Dahn Yoga & Health Centers, Inc. and Body + Brain Holistic Yoga centers. Check out the dates and locations below to attend a live screening of the film, experience LifeParticles for yourself, and begin your own change!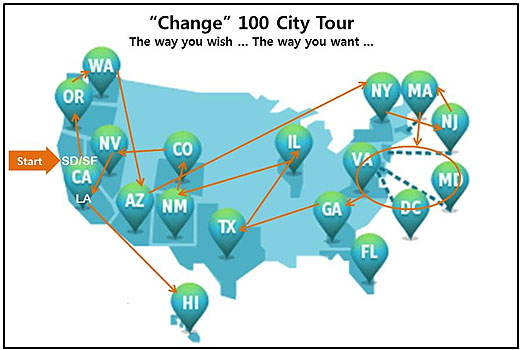 May 9th (Thu) – 6:30 – 8:30 pm – QLN Conference Center – 1938 Avenida del Oro, Oceanside, California 92056
May 10th (Fri) – 6:30 – 9:30 pm – Sheraton Hotel Palo Alto – 625 EI Camino Real, Palo Alto, California 94301
May 15th (Wed) – 6:00 – 9:00 pm – Portland Art Museum, Fred & Suzanne Fields Ballroom – 1219 SW Park Avenue, Portland, Oregon 97205
May 19th (Sun) – 1:00 – 4:00 pm – Cadle Theatre, Lake Washington High School – 12033 NE 80th St, Kirkland, Washington 98033
May 23rd (Thu) – 6:30 – 8:30 pm – Hilton Resort & Villas – 6333 N Scottsdale Road, Scottsdale, Arizona 85250
June 8th (Sat) – 7:00 pm – Shea Center for Performing Arts, William Paterson University – 300 Pompton Rd, Wayne, NJ 07470
June 9th (Sun) – 1:00 – 4:30 pm – SUNY at Old Westbury, Student Union Multipurpose Room – 223 Store Hill Road, Old Westbury, New York 11568
June 11th (Tue) – 7:30 – 9:30 pm – Tsai Performance Center, Boston University – Boston, Massachusetts
June 18th (Tue) – 7:00 – 9:30 pm – Mile Hi Church – 9077 W Alameda Ave, Lakewood, Colorado 80226
June 20th (Thus) – 6:00 – 10:00 pm – Hispanic Cultural Center – 1701 4th St. SW Albuquerque, New Mexico 87102
June 23nd (Sun) – 1:30 – 4:30 pm – Cullen Performance Hall, University of Houston – 4800 Calhoun, Houston Texas 77204
June 29th (Sat) – 2:00 – 5:00 pm – George Washington Lisner Auditorium – 730 21st Street NW, Washington, DC 20052
July 9th (Tue) – 7:00 – 9:30 pm – Roswell Cultural Arts Center – 950 Forrest Street, Roswell, GA 30075
July 14th (Fri) – 1:00 – 4:00 pm – Evanston Township High School – 1600 Dodge Ave, Evanston, Illinois 60201
July 20nd (Sat) – 1:00 – 5:00 pm – Agape International Spiritual Center – 5700 Buckingham Pkwy Culver City, California 90232
July 23rd (Tue) – 6:30 – 9:30 pm – Judy Bayley Theater, University of Las Vegas – 4505 Maryland Parkway, Las Vegas, NV 89119
August 9th (Fri) – 6:30 – 9:30 pm – Hawai'i Convention Center – 1801 Kalakaua Ave, Honolulu, Hawai'i 96815
The forty-five-minute Change combines personal stories from individuals who have experienced the Theory of LifeParticles at work in their lives, the insights of experts in the fields of medicine, education, and spirituality such as Ilchi Lee, Neale Donald Walsch, Mariale Hardiman, and Stuart Hameroff, the scientific background of the Theory of LifeParticles, and practical self-help tips to apply the theory in your daily life. It goes into detail about the basics of energy, how it works, and how you can become the master of your thoughts, emotions, and destiny. For more information about the Change film, you can visit www.change-film.com.
Watch the preview!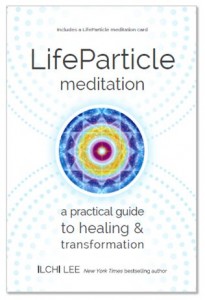 Accompanying the film, Ilchi Lee will publish a book, LifeParticle Meditation: A Practical Guide to Healing and Transformation, in June 2013, which go deeper into the Theory of LifeParticles and its effect in different people's lives. The beauty of this book lies in understanding the principles of LifeParticles within a real life context and walking you through its practical applications. It gives you a step-by-step guide to LifeParticle Meditation, an essential visualization technique for accessing your subconscious mind and changing your life with LifeParticles. Rather than being dragged by life's inevitable flow of change, the meditations and ideas in this book allow you to understand, manage, and direct that flow.
The updated website LifeParticle.com will also arrive in June 2013 with new content, loads of videos, information on the documentary, and details on how you can be a part of the LifeParticle project for change.
With its many arms, the Change Project inspired by Ilchi Lee aims to bring hope for self-determination and for embracing real and positive change for individuals and the planet.