Everybody knows the phrases, "I'm sorry," "thank you," and "help me." But how and when you say them are very important for strong and meaningful relationships. When you have difficulty relating to others, ask yourself, "Am I good at saying 'I'm sorry,' 'thank you,' and 'help me'?" Do you say, "I'm sorry" right away when you make a mistake or hurt someone, even for small things? Or do you wait until later? How often do you say, "thank you?" Do you go out of your way to help others without expecting something in return, and ask for help when you have a clear idea of the help you need?
When we know how to say, "I'm sorry," "thank you," and "help me," appropriately, we can connect to other people's hearts and communicate more easily. We can create positive energy flow rather than stagnation; a healthy relationship requires an unimpeded flow of energy. Saying these three phrases properly is a way of creating trust and promoting fair exchange. If we build mutual trust we can really appreciate each other, help each other, and accept each other, despite mistakes. In this way, our relationships grow deeper and deeper.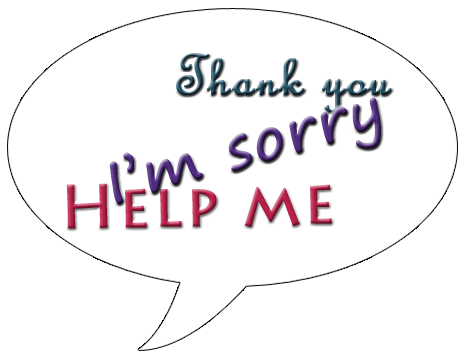 Often, saying these three phrases takes courage, humility, and flexibility. It also takes sincerity, honesty, and responsibility. If we get too caught up in our pride, our arrogance, our thoughts, or our ego, we miss opportunities to say them. We get stressed by little things and imagine slights where they weren't intended, and then create worse situations because we are too caught up in our emotions to say, "I'm sorry," or "thank you," or "help me." We produce an atmosphere of rejection and disappointment, driving the other person away.
We might also find it hard to say, "I'm sorry," "thank you," and "help me," because we find self-expression difficult, especially when we feel we've made a mistake or are afraid to ask for help, and want to hide. But please don't do that. Human beings are not perfect. We all need help and we all need to communicate. By always making the effort to open up and communicate with others all of the time, we can liberate ourselves and create the energy flow between ourselves and others that is essential for healthy relationships.
When we are sincere and honest with ourselves and others, we can say, "I'm sorry," "thank you," and "help me," boldly and confidently. By practicing saying these three phrases, we can develop our character and have strong and fulfilling relationships. –