A guided meditation app based on Ilchi Lee's Brain Education method is now being used in a United Kingdom train system. Brain Recharge, an easy-to-use app for both Apple and Android, can be downloaded for free to help passengers "Pause, Relax, and Reconnect." These reminders reflect the goal of the Inner Journey initiative of which the app is now a part, which is "to support passenger wellbeing and mental health" as many face the stress of returning to commuting after the COVID-19 lockdowns, according to the initiative announcement.
As part of this initiative, twelve train cars on the DLR train line in East and Southeast London have been modified to have sections of the walls and ceilings display scenes from nature and inspirational messages reminding them to relax and look within during their busy commute. The modified trains will be used throughout the DLR system. Three DLR stations have also been given meditation corners with real greenery as well as images of nature and calming colors. Launched on October 6, 2021, ahead of World Mental Health Day on October 10th, the Inner Journey initiative will last for at least six months.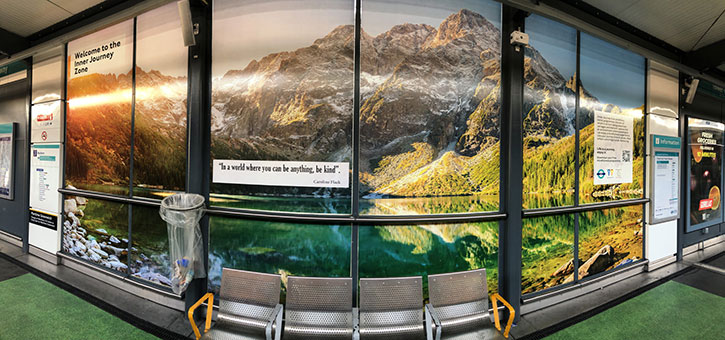 Calming nature scenes and inspirational messages decorate three stations.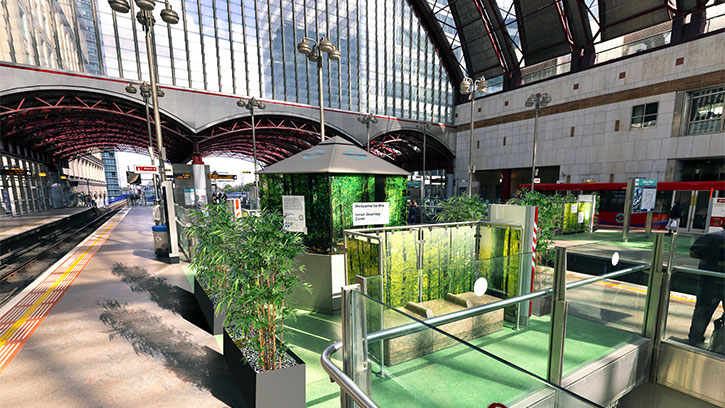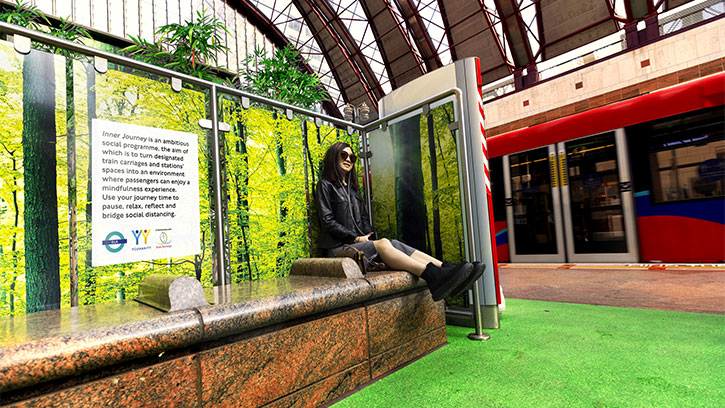 A mindfulness corner with potted trees and green scenery.
The Inner Journey initiative was developed by DLR operators KeolisAmey Docklands (KAD) and charity Youmanity. The DLR (Docklands Light Railway) provides driverless service that connects to the London Tube (subway/underground) network.
Brain Recharge was created in May 2019 by a website and company founded by Ilchi Lee, Change Your Energy. It features over one hundred audiovisual guided meditations under the categories: Recharge, Relax, Heal, and Manifest. Brain Recharge applies Ilchi Lee's more than forty years of meditation development experience and brings together his audio content in one easy-to-access place.
For the Inner Journey initiative, an "On DLR" category was added to the app. This category focuses on nature meditations. The meditations take urban commuters to a calm countryside, eternal mountain, ancient forest, and deep ocean.
Ilchi Lee's five-step Brain Education system of self-development and holistic health is also being applied at Body & Brain Yoga and Tai Chi centers and other training centers, community centers, schools, workplaces, and nonprofits in the United States, United Kingdom, Canada, South Korea, Japan, France, Spain, Belgium, New Zealand, Russia, Qatar, China, and more. Millions of people have benefitted from this system, which also forms the basis of accredited educational institutions Ilchi Lee founded in his native South Korea.
Brain Recharge can be downloaded in the Apple App Store or Google Play and tried for free for seven days. After the trial period, users can get unlimited, ad-free access to the meditations for $9.99/month or $99.99/year. Premium Members of ChangeYourEnergy.com have access to the Brain Recharge app included in their membership.
Experience Brain Recharge for iOS (Apple Store) ►
Experience Brain Recharge Android (Google Play) ►
Related Posts
Related Video