I first came to Sedona, Arizona, where I have a residence and several projects, 16 years ago. When I came, I came as a tourist. I saw the red rocks of Sedona and the juniper trees and I received inspiration from them. I had amazing experiences I'd like to tell you about in the near future. So I stayed in Sedona and started many projects to communicate what I'd learned. Through this work, such as giving meditation tours, I didn't just communicate the external beauty of Sedona. I also communicated its energy, with its particles of life (or LifeParticles), which Sedona contains.
Since energy is always moving among living things and objects—for example, you can feel energy from a tree and also from people—the question one should ask is, "How does it move or how is it transferred?" Or how can you attract energy to you, or send it to another person? How is energy expressed? How can we use it and what can we use it for? All of these things are a matter of the mind. And they're also a matter of the brain.
So I invented a term brain screen to describe these brain functions, although now I've decided to call it MindScreen because people might understand that better. A MindScreen is a kind of radar-like device that can take in energy and also broadcast it. Every person has this screen inside from birth, and there are all different kinds of screens.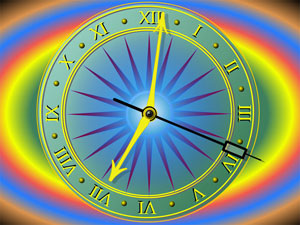 You can also think of it as consciousness or awareness. Most people make their decisions based on their knowledge or experience. Their ability to make decisions is very important for their life because it's a person's ability to decide things that also determines their destiny. Basing decisions only on knowledge or experience can limit what you're able to do. For certain people, however, it's not just about experience or knowledge. They also use a certain inspiration or insight or intuition.
So the MindScreen is actually a certain kind of inspiration. Or another way that might make it easier to understand is that it's sort of like a dream state. When they're in a dream state, people tend to be much freer than when they are awake. They can travel to the past or the future, or anywhere in the universe. Or for example, when I'm looking at a person, I can look at them like I'm drawing a picture and think, "What if I changed their hair color to blue?" The MindScreen is that free. Because in the end, color is also energy. So you can change an energy state any way you like with your MindScreen.
But most people tend to be rather fixed or static when it comes to a certain form or shape or color. When people live inside a physical or present reality, they tend to be trapped in that kind of reality and its fixed objects. In that sense, artists can be much more creative, because they can change the colors they use any way they like. In that sense, I feel like artists use their MindScreen.
So in all of the work that I've done in the 16 years since I first came to Sedona, I've done everything with my MindScreen, just as if I'm dreaming or painting a picture. In that sense, after I came to Sedona, I really used my MindScreen a lot. Instead of having flashes of insight or inspiration, however, I'm in that zone of using my MindScreen all the time. From that state of being, people are able to see and hear things that they can't normally perceive with sight and sound in the physical world. And yet in that state of being, they can be more successful in the physical world. A healthy Water Up, Fire Down energy state is automatically created in their bodies, they have more creative ideas and wider insight, and they have more hope.