Myo Yeon Mahn Wang Mahn Rae
Way less is the way all comes and all goes. All things come and go in indescribable wonder of harmonious order.
As we learned from the first few lines of the ancient Asian text, the Chun Bu Kyung, the One, the Origin of everything, becomes many things. It changes into Beginning (Shi, 始), Nothingness (Mu, 無), and Ending (Jong, 終). It also changes into Heaven (Chun, 天), Earth (Ji, 地), Humanity (In, 人), and myriad (Mahn, 萬) other forms. It goes through more changes than we can count. And yet, no matter what it changes to, at its center, it's always the same, and it always circles back to the One. This phenomena is truth being expressed and changing with different energies.
Because everything that exists grows and blooms from the trunk of the one tree called, "Life," each branch, leaf, and flower is beautiful. But when you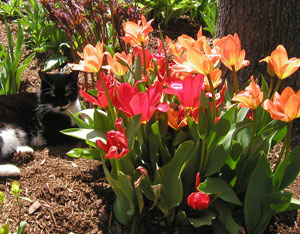 look at the whole tree, with flowers great and small, budding and blooming, wilted and blowing in the wind, everything expressing harmony, truth, and life, you see an even greater beauty.
So take some time each day to look past all of the different external forms, and see the beauty of the same life force in everything. Look deep inside an individual form, and then take a step back and see the earth as a whole. Let the beauty you see inspire love and caring from your heart. That love in your chest is the same One, or Source, with which you can create myriad forms.