One of Ilchi Lee's dreams has now come true. On October 29, 2009, the (South) Korean Ministry of Education, Science, and Technology officially approved a new Global Cyber University, a 4-year online university that can grant undergraduate degrees.
Three departments will grant degrees in two majors each:
Human Services – Diverse Cultural Well-being, Well-being for the Elderly
Global Business Management – Business, Marketing
Korean Cultural Studies – Cultural Storytelling, Cultural Contents Design
The new university, which opened officially on March 2, 2010, was seeded in 2004. After five years of planning–designing the curriculum, setting up the technology, and recruiting faculty–the university started accepting applications in November 2009. Four hundred ninety students have enrolled in its first class. Its administrative offices are located on the same grounds as the University of Brain Education and the Institute of Traditional Korean Studies.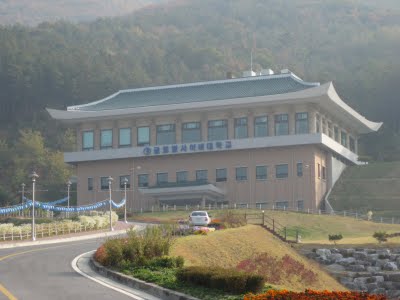 The Global Cyber University was one of six organizations that applied for approval to open an online university in South Korea last year, and it was the only one that received it. Now that the Global Cyber University has joined their ranks, South Korea has a total of 13 online universities.
One of the most interesting people admitted to the Global Cyber University is actually its oldest student. At 74 years of age, this student enrolled to fulfill a dream of becoming an essayist, a dream she'd had since high school. Although she's had different jobs, got married, and now has four married children, this invigorated woman has not given up her dream. She said, "I am not young, but I have something the younger students don't have—a lifetime of experience. I can pull from this deep well of experience in writing and storytelling to realize my life-long dream as an essayist."
And that's the president and founder, Ilchi Lee's, hope—that the students who graduate from the Global Cyber University fulfill their dreams. He wants the university to instill in them the philosophy of Hong Ik, to widely benefit all humanity. He hopes that once they leave the university they will go out into the world and contribute as global leaders.
To learn more, go to www.global.ac.kr.