We are halfway through our month-long study of the ancient Asian text, the Chun Bu Kyung. Congratulations to everyone who has been following it from the beginning. If you have, have you begun to see a pattern? The Chun Bu Kyung repeatedly communicates universal oneness and harmony as the nature of everything. We've extrapolated many lessons from this principle that we can apply to our lives. That's the trick, isn't it—. Any form of awakening or enlightenment is not real unless you can communicate it with others and make it a reality in your life and theirs.
Today we're taking a peek at the next line of the Chun Bu Kyung:







Yuk Saeng Chil Pal Gu Un
Literal meaning: Six bears seven, eight, nine, circulate
You know, in Five Elements Theory in Asian medicine, the number six is associated with water, which means increasing or creating. There are many correlations like that in the Chun Bu Kyung, which uses numbers to talk about life. It's not just the Chun Bu Kyung that does that, but other people have too, like Pythagoras. Everybody knows Pythagoras, right? He made the Pythagorean Theorem. Pythagoras thought numbers were pure and universal and could present and communicate essential laws.
The purity and meaning of numbers are communicated through energy. When I've sat and meditated on this phrase, I've asked my brain what it means. I know it will give me an answer because my brain doesn't just house a collection of information I've accumulated. It has access to the Universal Mind, what I call Chunjimaeum, which has all the answers. I know when an answer I get comes from the Universal Mind because I can feel it in my heart.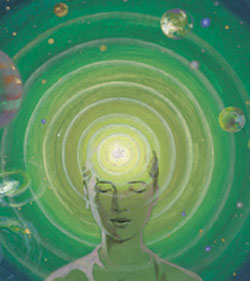 An answer I received for this phrase of the Chun Bu Kyung is that as we grow spiritually, our minds expand so that it matches the Universal Mind. They become one and the same. Even though we already have access to the Universal Mind inside our brains from birth, most people don't learn to pay attention to it, although some have flashes of insight and instinct. We can develop our minds so that we don't just get flashes, we make choices from moment to moment with Chunjimaeum. Can you imagine the kind of lives we could live, and the kind of world we could create, if everyone used this mind at all times?
Hand in hand with Chunjimaeum comes Chunjikiun, the energy of the cosmos. The more our smaller mind becomes one with Universal Mind, the more cosmic energy flows through us. By using energy exercises such as kigong to circulate this energy throughout our bodies, we connect more with Universal Mind. With energy circulating, Chunjimaeum enjoys us, and we enjoy it. Our hearts overflow with love and harmony, as well as an earnest desire to circulate that mind throughout the entire world.
Have you tried exercises such as kigong, tai chi, or yoga? What changes did you experience in your mind as you practiced them?
Don't forget to comment on my Facebook page this month to enter a weekly drawing for Chun Bu Kyung Wisdom Cards.