"Today is final exam day. The teacher hands out the test to the students and leaves the classroom. Serious-looking students are solving problems by checking textbooks or reference books, or by searching for information using a personal computer or smartphone. In the Information Age, testing students on textbook contents that they've memorized word for word is a long-outdated approach.

With 20 minutes left before the test ends, it's time to collaborate on group problems. Students form teams of five to discuss and solve group problems, which have a high degree of difficulty. When the ending bell rings, students smile cheerfully and give each other high fives.

A few days later, the teacher enters the class carrying the final exam grades. Student faces are full of confidence–there is no tension here–as if they already know the results. The teacher finally speaks, 'You all got 100 on this final exam.' The students cheer, applaud, and hug each other."
In what country could you find this happy scene? So far, it may only be a picture in my own brain. But when I think about the state of education, especially in my native South Korea, I want to find a way schools can teach the whole child and make this scenario a reality. Ultimately education should create happy students and happy families. If neither students, nor teachers, nor parents—those primarily engaged in the educational process–are happy, then there is a fundamental problem with their system of education.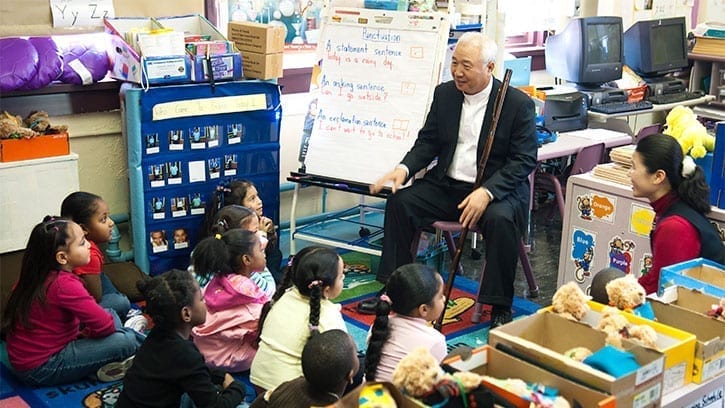 In Korea, the United States, and many other countries, one of the main problems is the tendency to teach for regional or national standardized tests. This kind of focus on standardized tests fosters an education system with competitiveness and conformity as its values rather than cooperation and creativity. It doesn't leave much time for physical education, arts education, or the development of character and ethics. More and more young people are suffering from early-onset of chronic diseases such as diabetes and high blood pressure because they are eating too much and too poorly, and exercising too little. When questioned, many of our students count money as the primary source of happiness, and have lost respect for their teachers. For many, it seems like a zero sum game: if they don't make it to college, today's youth face social stigma and significantly lower wages than their college-bound counterparts. While many adults may agree that these educational issues are serious problems, there is inadequate research and agreement on how to solve them.
First, let us agree on a core educational ideology.
Having a positive educational ideology will guide us in our analysis and help us derive the values we want to strive for in an education system. I think the core educational ideology should be to create "Hongik Humans". A Hongik Human is a healthy, capable, conscientious, and empathetic person with dreams and a guiding ideal. Such an ideology comprises fair competition, excellence, character, and morality.
Most importantly, it's an ideal that allows students to discover and acknowledge their own existential value through which they can love and respect themselves. Once that happens, students gain the confidence to make the most of their abilities.
Second, let us integrate neurophysiological and neuropsychological findings.
The purpose of education is to develop talented people. There is an old saying: "Knowing isn't as good as liking, and liking isn't as good as enjoying." If you like something, you will learn it automatically. For both learning and teaching, let us engage in education that results in the secretion of a lot of hormones that make us joyful and happy.
Creativity is manifested when the brain is enjoying itself. Education that involves having to solve problems assigned by others using memorized information, without even knowing one's own aptitudes, is a system that is already far behind the times. The self-directed, problem-based, creativity-developing learning of which advanced education systems boast is the kind that the human brain likes and that makes best use of the brain's abilities.
Third, let us create a system suited to the Information Technology Age.
We need a shift in our ideas. Why shouldn't all students get 100s? Let's make it so that anyone can get 80 points or better on school tests as long as they have the ability to search for and assess information. That's enough for them to be able to go into their communities and perform with excellence the tasks required by their work. And there'll be no need to worry about a decline in academic ability if 20 points reflect an assessment of their ability to create information.
If we base our education system on the Hongik Human ideology and neuroscientific principles, while making good use of Information Technology, we can develop the best education system for creating happy, creative, and productive children.