In early 1996, I was reading a newspaper in LA when I saw a photo that immediately grabbed my attention. The red rocks were so real they felt like they might jump out of the paper at me. I read the caption beneath the photo and learned it was a place called Sedona, in the state of Arizona.
I couldn't get there fast enough; I wanted to see those red rocks. So I asked an acquaintance to come with me.  We cruised along by car from Los Angeles, driving through Flagstaff. It was the middle of the night when we arrived in uptown Sedona, so we settled into a motel that hugged Oak Creek Canyon.
The night was dark and there was little chance to see the scenery aside from the sparkling stars that filled the night sky with their refreshing twinkling. As I filled my lungs with clean, crisp air, I went to sleep with excitement and anticipation in my heart.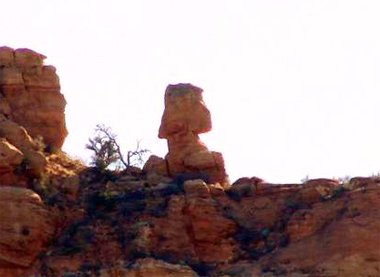 As soon as I opened my eyes the next morning, I threw back the curtains. My first view of Sedona's landscape entailed a mountain of blended red and white rock, standing tall above a verdant forest. At the top of the mountain were large and small rocks shaped like various animals. Then I saw one that caught my attention. At the top of the mountain, there was a modest rock that looked just like a person seated in a lotus posture, meditating!
I thought to myself, Wow, even the rocks in Sedona meditate.
After a simple breakfast, I wandered about Sedona, here and there, wherever I felt like going. It seemed like the entire city was embraced by arms of red rock. The green of the junipers and cacti that dotted the red turf proffered a dramatic contrast of color. The sky of Sedona, wrapped around the burnt red earth, seemed more clear and blue than any sky I'd seen. A sanctity circulated in the air between earth and heaven there. Though it was winter, warm sunlight was shining down through the clear air. As I looked at the dazzling beauty of Sedona's earth and sky awash with the morning sun, my heart skipped a beat, and it occurred to me that this just might be the very place that I had been seeking for so long.
Do you see the meditating rock?