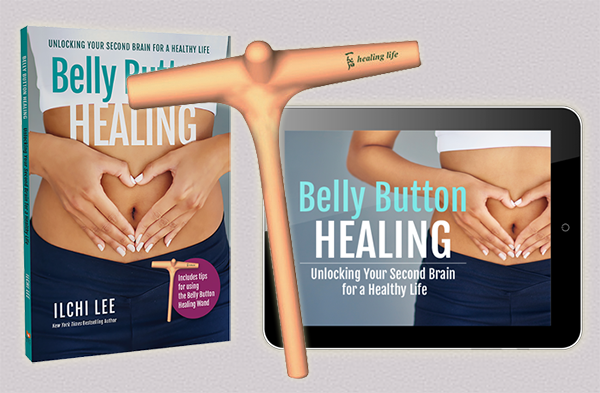 July 2016 will herald the release of Ilchi Lee's newest book, Belly Button Healing: Unlocking the Second Brain for a Healthy Life, published by Best Life Media. This succinct paperback solidifies in writing Mr. Lee's latest natural health offering to anyone who wants more vitality, compassion, and connection. Belly Button Healing has a whole host of benefits, the book explains, ranging from better immunity, to pain relief, improved range of motion, relief from constipation, better blood and lymph circulation, and more.
In his ongoing quest to uncover simpler and easier ways to gain total health and inspire people to value themselves and show compassion for others, Ilchi Lee has explained the power of the belly button. What may seem like only a birth scar, Mr. Lee says, is actually a point that connects to major organs, blood vessels, lymph nodes, and even energy channels. By pressing into the belly button gently, you can feel points of tension that may be restricting your movement, circulation, or digestion. Massaging these points removes the acute restriction, while at the same time, relaxes the body and calms the mind—the most beneficial state for rest and repair.
Besides these effects, Belly Button Healing improves mood, purportedly by stimulating the release of "happy hormones" such as serotonin and dopamine, which are produced in abundance in the gut. It also creates a better environment for healthy gut microbes to thrive in the intestines. These microscopic organisms have a symbiotic relationship with the human body. While they make their home in the gut, they provide a healthier intestinal wall, better immunity, and more release of these happy hormones, especially serotonin.
Along with the book, Ilchi Lee has designed a Belly Button Healing Wand called Healing Life. The name reflects Mr. Lee's belief that Belly Button Healing is an integral part of a healthy lifestyle. Healthy individuals, thinks Mr. Lee, create healthy communities that can ultimately heal all life. The tool is ergonomically designed so that most people can perform Belly Button Healing more consistently and efficiently. Ilchi Lee carved the prototype for the wand himself from the healing bark of a hwangchil tree after seeing a vision of what it should look like.
The Belly Button Healing book is being sold alone at major booksellers, or with the Belly Button Healing Kit, which also includes the Healing Life wand and the Belly Button Healing online course on ChangeYourEnergy.com. The kits are being sold at ChangeYourEnergy.com and at Body & Brain Yoga and Tai Chi Centers throughout the United States. Healing Life itself is also being sold at any location that teaches Ilchi Lee's methods around the world. In-person instruction in Belly Button Healing is also available at these locations.
For more information about Belly Button Healing, visit BellyButtonHealing.com.