Today I'd like to talk about the row of masks that are hung high up on the wall. These are masks that I've collected from here and there. There are also some that were given to me, by people to whom I'm thankful. Included are traditional masks from Korea and Japan.

Traditional Korean Masks
It seems like our whole life is contained in those masks, so I feel as close to them as if they were old childhood friends. The joy, sorrow, love, and pleasure of life are contained in these masks. They show the different faces we have chosen at various turns of life.
We live with one brain our whole life, but depending on how we use that brain, every day and every moment we put on different emotions or personality traits. Joy and sadness, good and evil, love and hate, flexibility and stubbornness, hope and despair … are like different masks that our brain can change and wear.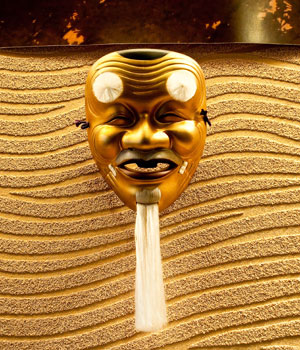 Traditional Japanese Mask
But I am not really the masks I wear. Inside I have a pure and unchanging self that is inherently good. The masks I put on are merely the myriad expressions I present to the world.
I have the power to choose which mask I am going to wear. I am able to choose and create all of the things that constitute the kaleidoscope of my life—just like a mask. I can choose to wear masks that express my true spirit, or something more transient instead.
We've chosen every mask that we have used in our life. There isn't any one of them that someone else put on us. Just as my life until now has been the result of my choices, I am always able to newly choose my today and tomorrow.
Every morning, as I look at these masks I think, "How will I choose to face the world today? What masks should I try on?"
How about you? Have you chosen a mask of life that you like?