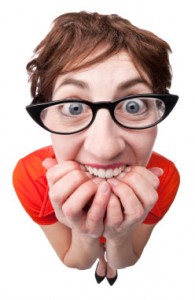 You have a dream and are committed to making it a reality, but that commitment leaves you riddled with anxiety and worry. But your worry just means you care right?
Maybe. But if you keep being anxious or worried, you'll block new ideas and drain your energy. By worrying and losing your energy, you can fall into depression, and that's the wrong way to use your brain. Your brain can become paralyzed by anxiety and worry.
So if you really want to do something, don't worry about it. Worrying is not helpful at all. It just makes your body unhealthy. Instead, do Plan-Do-Check-Act (PDCA).
Planning involves relaxing and establishing action steps with a clear mind–quite the opposite of worrying. If you have a good plan, then you don't need to be anxious. You just need to keep checking, revising your plan, and acting on it, and you'll be able to take the challenges you meet in stride.
Fill all of your time with PDCA and you won't have time to worry. With commitment to your dream, ask yourself 24-hours a day: "Am I doing PDCA now? Am I planning? Am I doing what I planned? Am I checking? Am I taking action now?" Then you can achieve anything.