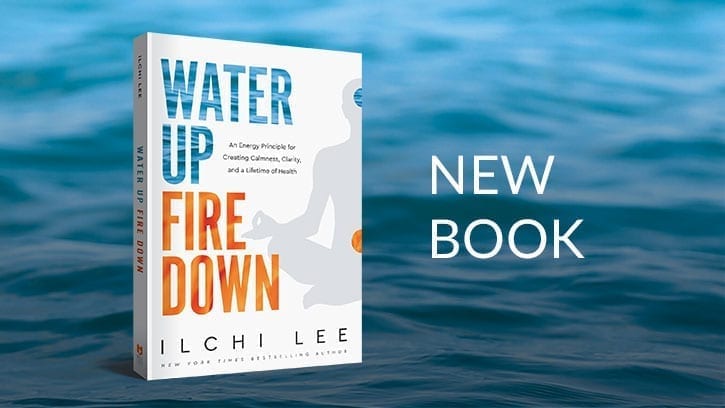 Ilchi Lee's new book, Water Up Fire Down: An Energy Principle for Creating Calmness, Clarity, and a Lifetime of Health, will be released November 9, 2020. It will be available in paperback, ebook, and audiobook formats.
This book focuses on one major energy principle that underlies our well-being, according to Asian medicine. It's the basis of the many methods Ilchi Lee has developed over his 40-plus-year career.
The book shows you how keeping your head cool and your belly warm can influence every aspect of your life, and how by creating this energy state, you can improve any physical, mental, or emotional issues you may have.
It also emphasizes the importance of daily energy care, saying it's as critical as brushing your teeth, getting a good night's sleep, and wearing a mask in public. Your daily habits, it claims, arm you against the stresses and challenges that come with living, especially in these troubling times.
Donna Eden, author of Energy Medicine, has endorsed the book, saying, "I love this book. It is short, sweet, practical, fun to read, and it is written by a master! Ilchi Lee's warmth, energy, and passion comes through as he teaches you how to understand your own body's energies, to read them, and to nourish them. It is an important book for these challenging times!"
Long-time student of Ilchi Lee, Dr. Reed Tuckson, author of The Doctor in the Mirror, also gave props to the book. He wrote, "In Water Up Fire Down, Ilchi provides important and useful guidance on how each of us can take better control over our thoughts and emotions to reduce stress and enhance wellbeing. . . . I recommend this book to a wide audience because I wish for everyone to enjoy the benefits that result from Ilchi's teaching."
Ilchi Lee began this book because "now more than ever, it's become obvious that we need to care for our own health. Making healthy daily habits is the first line of defense against infection and lifestyle illnesses such as diabetes and heart disease. They also provide an anchor that helps us weather life's emotional highs and lows. Water Up, Fire Down is the number one principle that affects our health. . . . If you know this principle, then you can check your energy condition all the time and apply it to your life."
If you pre-order Water Up Fire Down in any format before November 9th, you can get access to free videos that bring the book to life: morning and evening routines to start and end your day in a healthy way, plus an exclusive qigong form made just for the book release by a qigong master who is one of Ilchi Lee's students.
You can learn more about the book and claim your pre-order gifts at WaterUpFireDown.com.
Related Posts