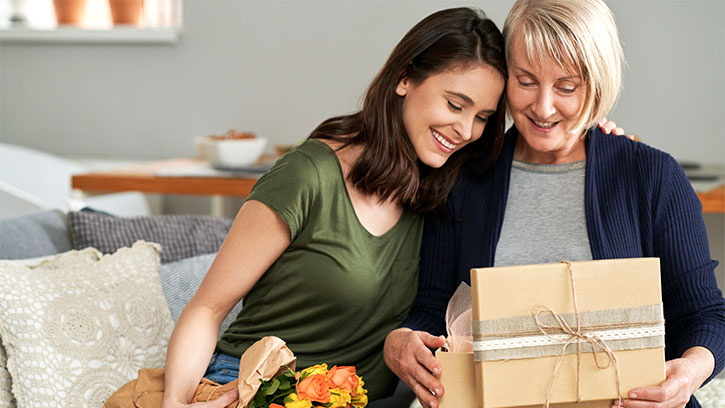 Stimulate your core to revitalize your body and your life.
With Mother's Day coming up in the United States, many people are preparing lovely gifts and delicious foods for the mothers who nurtured their growth after giving them life. Perhaps they're also giving their mothers and grandmothers cards with sentimental words and saying, "I love you," with bright smiles that show in their eyes.
We can also nurture our lives the way our mothers did. We have a major energy center in our lower abdomen—our core. This area between our hips is associated with the energy of physical vitality and reproduction. By activating and building up the energy there, we can live more creatively and have more stable relationships with ourselves and others.
Complicated processes are not required to grow the energy in this center. We simply need to stimulate the area and bring our attention to it. This creates vibrations that, along with our focus, clears out old energy and gathers fresh energy.
Then it's just a matter of time. The more stimulation and attention we give to the energy center, the stronger it will get. And as it gets stronger, Water Up, Fire Down energy flow will be generated, which will give us a clear head, open heart, and warm abdomen.
Making a strong core feels so good—yet sometimes it doesn't. When we stimulate and vibrate our body, we can feel the old energy that's moving out. Just like when we stir up dust and grime, moving stagnant energy makes an unpleasant mess when we're in the middle of it. But once it's cleared out, we feel refreshed.

2 Exercises for Charging Up the Energy in Our Core
Abdominal Tapping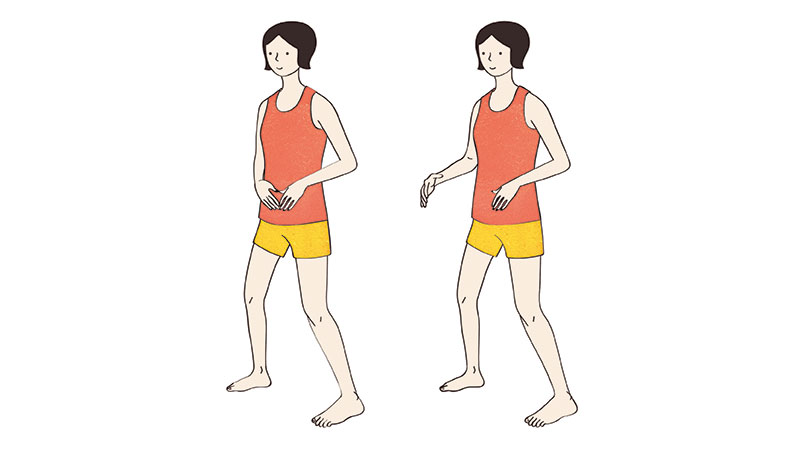 Stand with your feet shoulder-width apart and parallel like the number eleven. Straighten your back and neck while relaxing your shoulders. Tuck in your chin slightly or look at the ground about two feet in front of you.
Using loose fists or your palms, tap the area below your navel. You can tap with both hands at once or alternate your hands while you tap two inches below your belly button. Pay attention to the stimulation and vibration in this area, from your skin to your muscles to your intestines and other internal organs. As you exhale, let the air come out through your mouth.
Keep tapping for as long as you can, until your lower body feels strong and solid and your upper body feels relaxed and light. You can start slowly with about 300 taps and work your way up. You can even tap for twenty minutes if your body's condition can handle it.
If you feel some discomfort, you can tap more lightly until your discomfort eases. Exhale more strongly and relax your abdomen as you tap to help the discomfort to pass. Don't do this exercise if you've had recent surgery in this area and have not completely healed.
Intestinal Exercise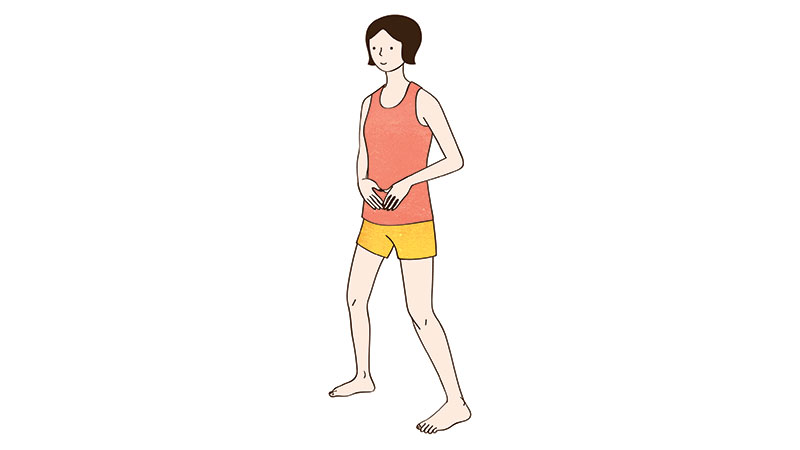 Make the same basic standing posture with your feet shoulder-width apart and parallel, your spine straight, and your shoulders relaxed. Tuck in your chin slightly or look at the ground about two feet in front of you.
Rest your palms on your lower abdomen with the tips of your thumbs meeting over your navel. Imagine there is an imaginary string pulling your navel toward your spine as far as it can go. Gently release and let your abdominal wall come out again. Exhale through your mouth. You do not need to coordinate your breathing with your abdominal movement.
For added effect, you can squeeze the muscles in your pelvic floor and anal sphincter as you contract your abdominal muscles. At the same time, keep your upper body relaxed.
Repeat this in and out motion at least 100 times at first. You can also do it for twenty minutes or more once you become good at the exercise.
While they are simple, once you start doing these two exercises, you'll experience their power. Through regular practice, you'll be nurturing yourself and giving yourself the energy to nurture others without feeling depleted.
Related Posts
Featured Video